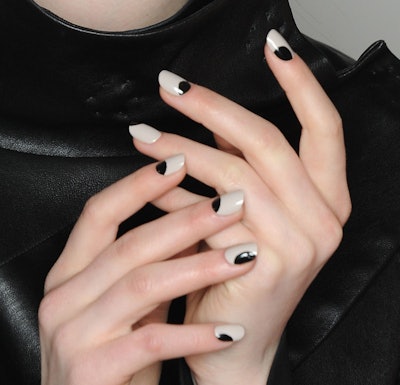 Morgan Taylor made a big splash at the New York Fall/Winter 2015 Fashion week. Their nail artists, Gina Edwards and Danielle Candido created looks for no less than eight shows, and each one was as amazing as the next. Check all of them out on the following pages.
Starting Fashion Week with the Tanya Taylor show, Gina Edwards for Morgan Taylor created manicures inspired by the sea and marine life. With a high-gloss black, Edwards' first look imitates the dark waters at the deepest reaches of the Mariana Trench. Another of her manicures featured a holographic spine motif over a high-gloss black.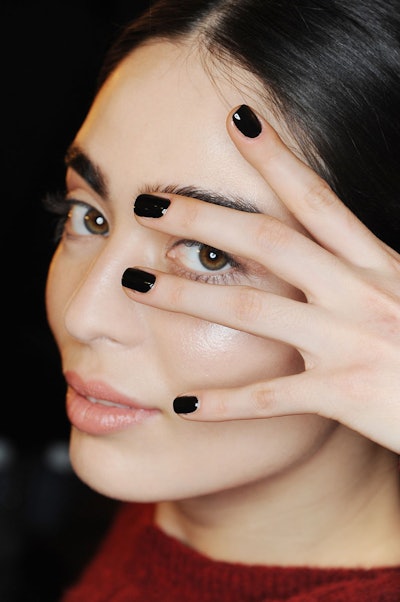 Edwards achieved both looks by using a base of Little Black Dress. The fish-bone motif of the second look was hand-painted using Could Have Foiled Me and a layering of the prismatic Fame Game glitter. Edwards finished with two top coats of Make it Last and the quick-drying Need For Speed to give her work the ultimate shine.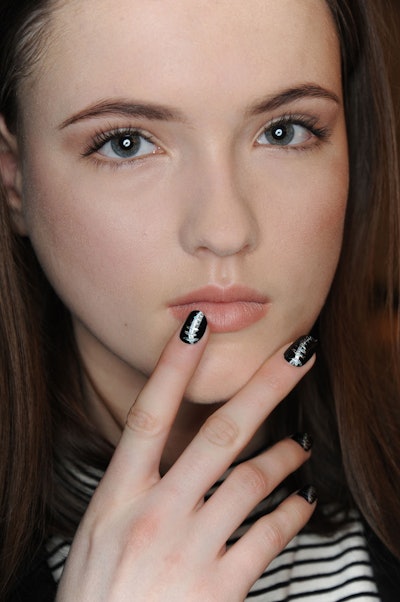 Danielle Candido for Morgan Taylor wanted to create a look that would compliment the inspired and decadent, but simply tailored style of Sally LaPointe's collection. To do this, she picked a strong dove grey that would match the tone of LaPointe's designs without overpowering them. Candido used a custom mix of Scene Queen, a subtle, shimmering grey-beige, with a hint of the sophisticated creamy grey Sweater Weather.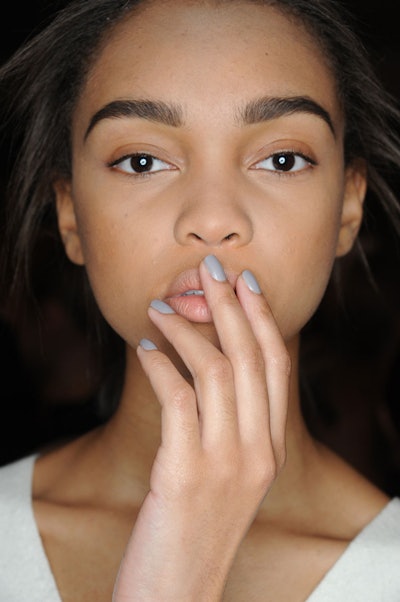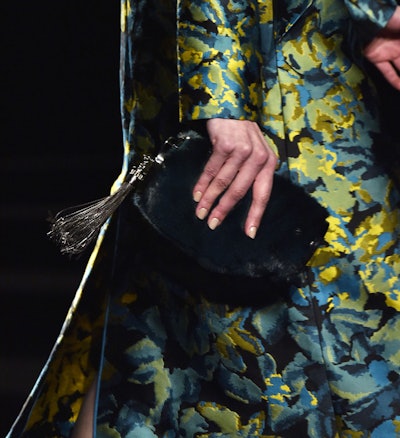 The Monique Lhullier collection was lively, colorful, and demanding of a strong and confident look to match it. Gina Edwards created three manicures that were anything but shy for this show. Using In The Nude with a splash of Latte Please, she reinvented a classic style. With the pearlescent teal of Bright Eyes, Edwards created a stunning, disco-chic look. The final look was the unapologetically glamorous combination of a Bordeaux base of Take the Lead paired with a topping of the metallic plum If Looks Could Thrill.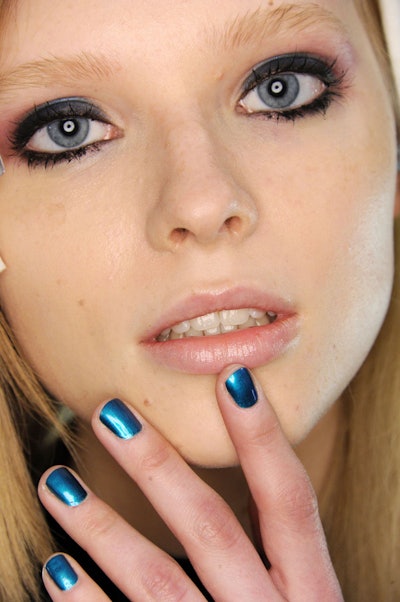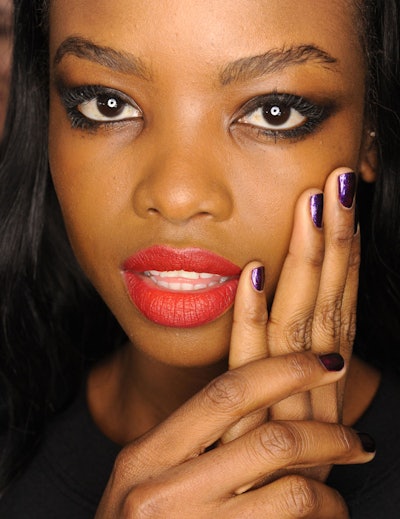 Taking the tried and true mauve manicure, Gina Edwards updated and modernized this classic look by using Polished Up to match Chris Gelinas' collection which emphasized the elegance of the female form in American work attire.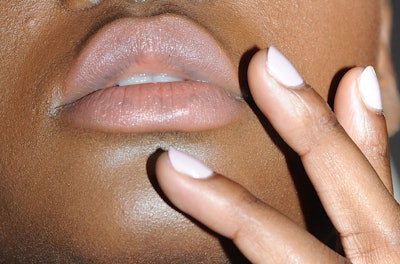 For the Carmen Marc Valvo show, Danielle Candido created this chic, mid-century mani using a custom blend of Matte's A Wrap and a splash of Metalling Around. Adding a thin stripe of Little Black Dress along the outside cuticle line, Candido tied it all together in a unique design. She finished with a top coat of Make it Last for a high-gloss shine that emphasized the contrast of the black and matte gray.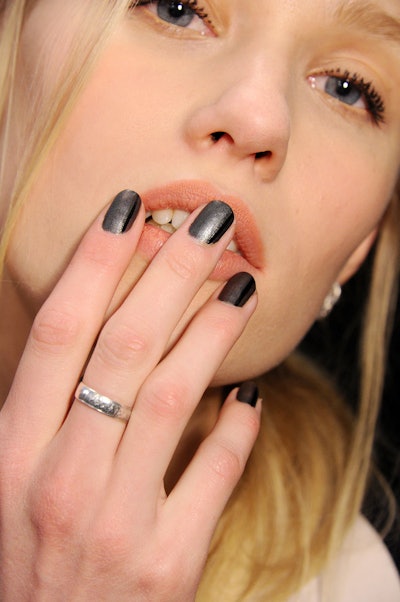 The Thakoon collection was like something out of the sweetest dreams. Gina Edwards was called upon to create a cold, dreamy look for the show. Inspired by stunning glaciers and sleepwalking under the Northern Lights, Edwards used a base of Sweet Surrender, and topped it with the shimmering Something To Blog About and a top coat of Make it Last to craft this icy, opalescent look.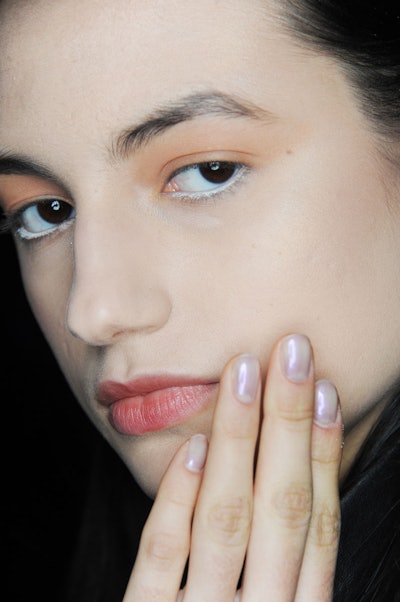 Jumping off of the vintage, 70's glam feel of Angel Sanchez's collection Gina Edwards created a high-gloss, glamorous, grey manicure. Using the rich grey of Sweater Weather as a base, Edwards layered the Make It Last and quick-drying Need For Speed top coats to give this look a ultra high-gloss shine.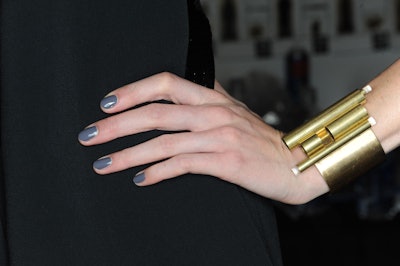 The Zero + Maria Cornejo collection was all about individuality and the differences that make everyone unique. To highlight these differences, Gina Edwards created an asymmetrical look of large fat dots sliding off the nails in all directions. She used the taupe crème of Birthday Suit layered with In the Nude for a neutral base, while the dots were created with Little Black Dress.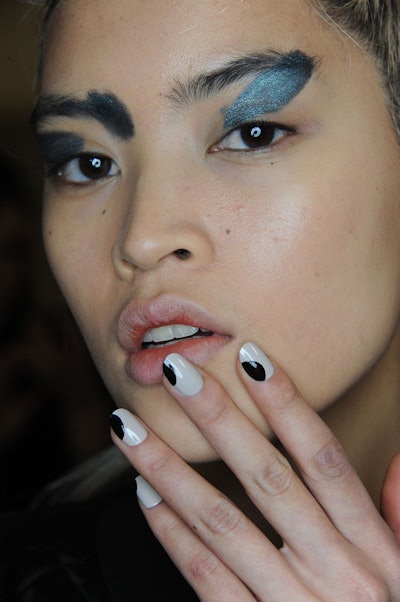 [Images: Morgan Taylor]