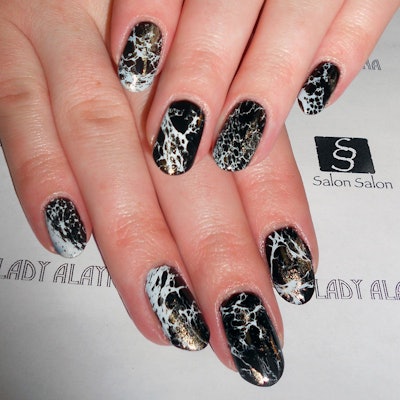 This new nail design is for those clients of yours who are always looking for something new and exciting. Provide them with something inventive and nature-inspired with this black marble gel manicure, created by nail artist
Lady Alayna.
1) Start with clean, dry nails. Wipe the nail with 99% alcohol. Apply
CND Shellac Basecoat
and cure for 10 seconds.
2) Apply 2 coats
CND Shellac in Black Pool
, and sponge in a bit of gold polish of  your choice, curing for 2 minutes after each coat. The nail surface will be tacky – don't let anything touch it.
3) Fill a disposable plastic cup or small glass with lukewarm water, and use scotch tape or liquid palisade around the nail to protect the skin and save time on clean-up.
4) Drip one drop of
CND Vinylux Cream Puff
on to the surface of the water, it will spread out.
5) This next step you may need to troubleshoot – you can use hairspray, hand sanitizer, or perfume even! I used hairspray. One spritz straight on creates the veined texture you're looking for.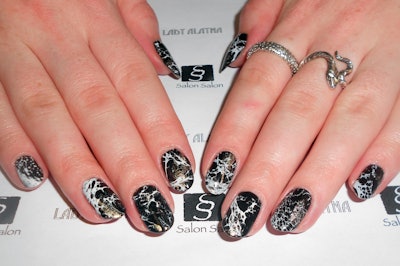 6) Dip the nail plate face-down, straight into the surface of the water. The gel will stick to the nail. While the finger is submerged, use an orange wood stick to clear the surface of remaining product. 
7) In a forward motion, bring the nail face-up out of the water. Allow the water to evaporate off of the nail, and take off the tape. 
8) Apply one coat of
CND Shellac Top Coat
, not too thick, and cure for 2 minutes. Afterwards, remove the tacky layer with a pad soaked in alcohol. The white
Vinylux
can be removed from around the edges with a small art brush dipped in simple nail polish remover.
9) Very important! Apply a swipe of
CND
Solar Oil or other cuticle oil on to the cuticle of each nail and rub it in and around the whole area. It replenishes the skin after exposure to the alcohol, provides a barrier against scratches, and continued use during your Shellac manicure ensures healthy cuticle and nail growth. Plus, they're shiny and smell great! Some salons will give you a sample bottle to take home after your manicure.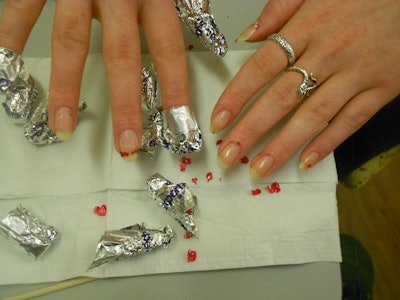 * Removal of gel polish is actually incredibly easy and not as harmful to the nail as rumored. Soak hands in hot, hot water for a few minutes. Then use the
OPI Gel Removal Foil Wraps
soaked in pure acetone, and apply them directly to the nail plate. Keep them on for less than ten minutes, and when removing each foil, the product should slide off in its entirety.
For More from Lady Alayna:
[Images: Lady Alayna]