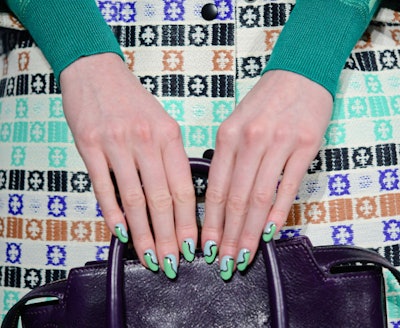 Casey Herman for China Glaze turned to the bold waves and ruffles that dominated the Novis Fall/Winter 2015 collection when she was asked to create nail art for the show. Using this inspiration as a launch pad, Herman created a wavy look of bold blues and purples. The two-toned "S" stripes complimented Jordana Warmflashes designs and evoked thoughts of cool water.
"The waves and colors reminded me of the ocean. The China Glaze® shades – a mix of black, soft blue and green – captured the ocean during the autumn time, a little moodier and stark. The black wavy stripe across the nail captured the feeling of movement and made the wave bolder and more abstract, like a piece of artwork.  I created this design so it was interesting without being distracting, as well as complemented all looks in the collection."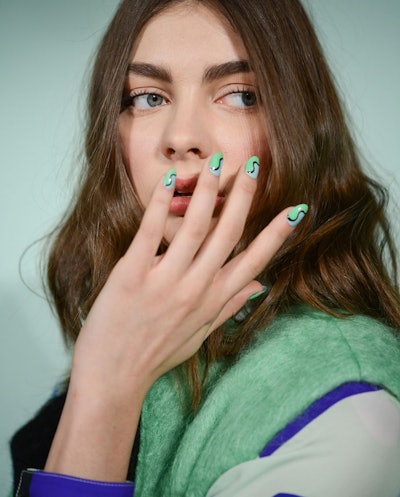 Herman used China Glaze Kinetic Candy, a light blue crème, the bold green crème of Shore Enuff, and the black Liquid Leather to create her bold design. China Glaze invites you to try out this oceanic, runway-ready look for yourself with the following guide: »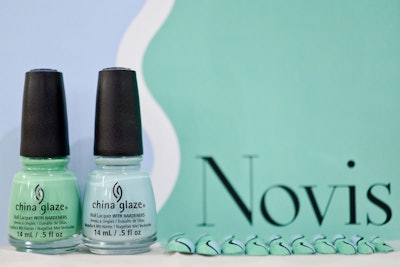 What You'll Need:
Ridge Filler Base Coat
Kinetic Candy
Shore Enuff
Fast Forward Top Coat
(All products available from China Glaze).
How To:
 Apply one coat of Ridge Filler Base Coat to clean, filed nails.
Next, apply two coats of Kinetic Candy.
Using a thin striping brush, create a "S" shape across the nail using Liquid Leather.
On the side of nail closest to the tip, fill in with Shore Enuff. (TIP: Use striping brush to get the polish as close to the edge of the "S" shape as possible, then polish brush to fill in the rest).
Finish with Fast Forward Top Coat.
[Images: China Glaze]