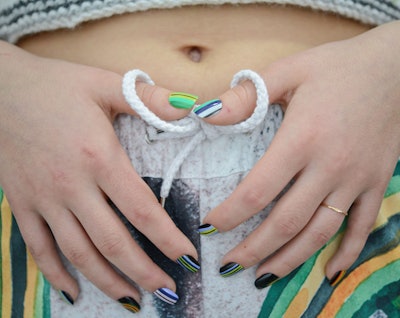 Casey Herman for China Glaze created stunning stripes and bold colors to bring together the Fall/Winter collection at the DEGEN Presentation at New York Fashion Week.
Working off DEGEN's rainbow thread concept, Herman conceived of a design that would compliment the bright and joyful tones of Lindsay's collection. Herman wanted something fun that would bring everything in the collection together.
"For the striped nails I mixed and matched China Glaze colors to reflect the many variations of thread in the world," said Herman about her nail art. "I gave all the models accent nails of the same colors to pull all the nail looks together with a 'common thread'.  We didn't want to forget the male models and gave them a bold single tonal stripe to again reflect the 'common thread' theme.  I love the idea of individuality but that we are also all part of humanity; that's why all the nails are different but relate to each other."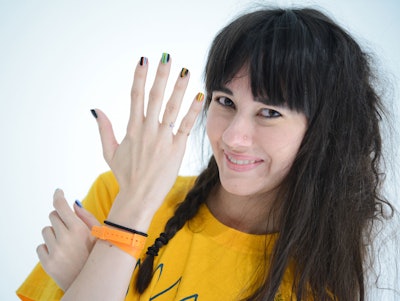 Keeping in tune with the idea that we're all connected, Casey Herman and China Glaze have provided a guide for anyone looking to recreate her colorful nail art. »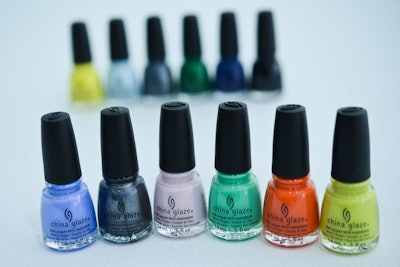 What you'll need:
Ridge Filler Base Coat
Daisy Know My Name? (NEW for Summer 2015)
Treble Maker (NEW for Summer 2015)
Boho Blues
Paper Chasing
First Mate
Out Like A Light
Awaken
Dashboard Dreamer
Trip of a Lime Time
Pop the Trunk
Wanderlust
Liquid Leather
Fast Forward Top Coat
(All products available from China Glaze).
How To:
Apply one coat of Ridge Filler Base Coat to clean, filed nails.
Next, apply two coats of the lightest shade, Daisy Know My Name?.
Using a thin striping brush, create a line down the center of nail using Liquid Leather.
Continue creating stripes alternating shades and thickness, being sure to leave space between to reveal base color.
 Finish with Fast Forward Top Coat.
[Images: China Glaze]