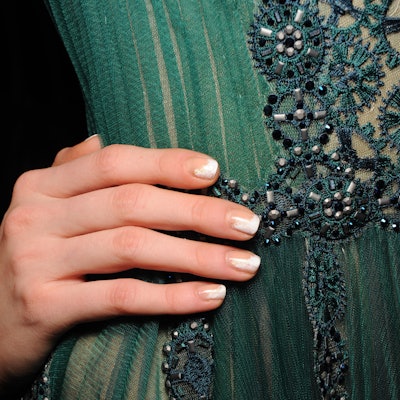 Even if Fashion Week isn't your "thing," you have to admit that some of the biggest nail trends from the last few years saw their inceptions on the runway (think texture, matte nails, negative space and floating nail art).
Which is exactly why we can't help but wonder if this new sponged French from the Tadashi Shoji Fall/Winter 2015 runway may be the next viral nail design. Not only does it look gorgeous alongside this elegant emerald gown, it's just simple enough that it can be customized to anyone's personal style, nail shape and length, or favorite color.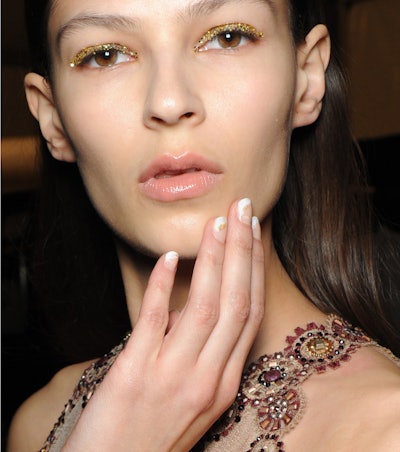 So how is it done exactly? Manicurist Katie Jane Hughes used Butter London to get the look: first, she applied Cotton Buds (the polish color, not the tool) with a makeup sponge, making sure the tip of the nail was covered and that the white faded up diagonally like a cloud. She then flipped the sponge over and carefully used a corner to dab on gold polish in Full Monty just between the white and the natural nail. She finished it all off with Hardwear P.D. Quick Top Coat to add shine.
We see the sideways sponged mani popping all sorts of places this spring in pretty pastels, both with and without the added metallic element. What do you think?
Update: We just spotted a similar look at TIBI! Check it out here.
[Images: Butter London]