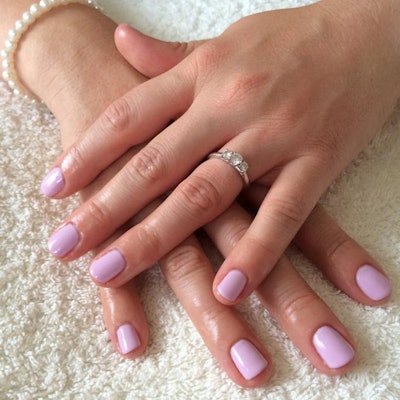 Hannah Butland may be a long way from Nailpro Headquarters (she's in the UK), but we have our eyes on her! Her work may not be drowned in rhinestones and glitter, but her CND Shellac services are clean and classy. Formerly an experienced therapist, she now works in a peaceful environment from home doing not only nails and makeup, but also educating her clients on proper nail care, health, and makeup application in person and on social media.
One of her latest manis…
For some reason, everyone seems to believe that a bridal manicure has to stick solely to white, and of course that's not how we see it! For this bride-to-be, Butland used Shellac in Cake Pop, a soft feminine pink that won't detract from the wedding gown. "It's nice to do something different!" she said – plus the sweet color name suits the occasion!
For more on Hannah Butland, visit her online:
Facebook: facebook.com/hbbyhannahbutland
Twitter: @healthbeautyhb
Address: 1 Long Park, Woodbury, Exeter, Devon
Phone: +44 7535 328104
Email: hbsquaredsalon [at] gmail [dot] com
[Image: Hannah Butland]