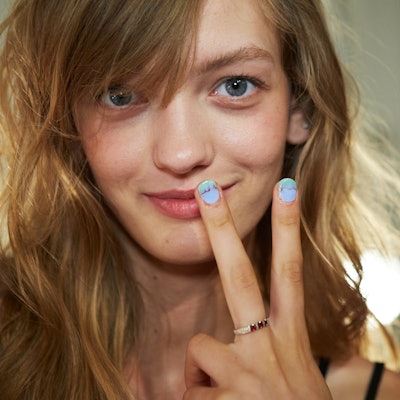 It's thrilling to see showy (rather than nude) nails at Fashion Week – and we're always curious as to what designs are selected to pair with the couture. At Rebecca Minkoff, the billowing beachy looks, floppy hats, and fringed bags were matched by an equally carefree tie-dye nail. Like a watercolor painting, each fingertip blended a variety of colors to intertwine with the collection. Manicurist Michelle Saunders for Essie kept toes simple with just a coat of Bikini So Teeny – and used this step by step process for each of the models' hands:
Step 1: Apply one coat of Blanc to make the polish shades appear brighter. When doing a design with so many layers of polish, you can skip the base coat.
Step 2: Beginning at the nail bed, apply one coat of Bikini So Teeny to half of the nail.
Step 3: Next, apply one coat of Turquoise & Caicos to the remaining half of the nail, slightly overlapping with Bikini So Teeny in the middle.
Step 4: Next, dip a striping brush in Lollipop and create a thin horizontal fault line across each nail (do this step to one hand at a time as the red polish needs to be wet in order to create the watercolor effect).
Step 5: Directly after creating the fault line, apply a generous amount of Good to Go Top Coat over the entire nail; continue to blend towards the tip of the nail until the desired look is achieved.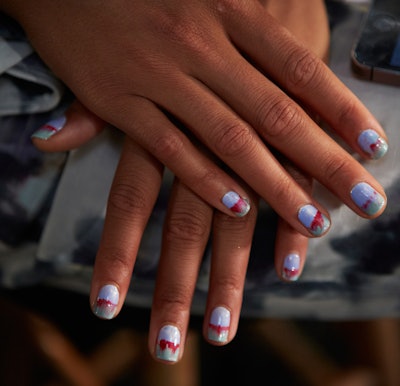 [Images: Essie]