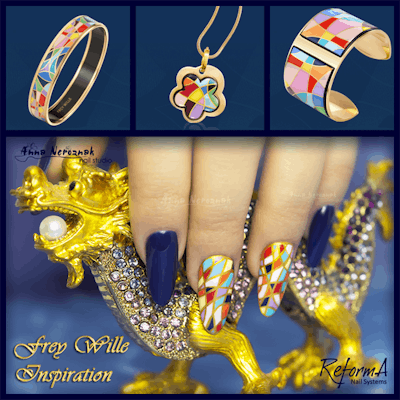 Saturate nails in bright colors like navy, red, and gold! Follow along as Anna Neroznak shows you how to create this look. »
1. Buff nail surface.
2. Use a pencil to create outlines for your work. First, draw some horizontal lines.
3. Add few vertical ones.
4. – 6. Choose your favourite colors and start filling in the patterns. Cure each color carefully.
7. Cover the design with Top Gel Polish, cure it, wipe off dispersion layer and buff the surface. Start outlining the pattern with gold acrylic paint using Kolinsky Brush N00.
8. Outline all the design and seal the art with 2 layers of Top Gel Polish for longer wear. ??
All products can be find at www.shopnailart.com
See the Neroznak Nails Youtube channel for tips with Reform A Gel polish and decal application.
Follow Anna Neroznak Nail Studio on Facebook: facebook.com/ShopNailArtStore
[Courtesy of Anna Neroznak]