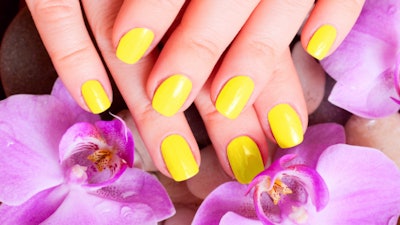 If you're expanding your services, you'll definitely want to invest in both types of gels, both hard and soak-off, to address the needs of different clients. Before you get started, see these six tips for using hard gels.
Choosing the right gel system
It's okay to try several brands and see which you personally like best; each is a little different. That also means that for each you try, make sure you apply the gel just as the manufacturer instructs. This will make the product last longer on the nails, and give you the most for your money. You can either get a small kit for each of a few brands, see them demonstrated at trade shows, or both.
It can also be a good idea to pick a brand that comes with good technical support and education. Look for one you feel will keep you up to date on the latest techniques, formulas, events and more.
The difference between acrylic to gel
When switching between acrylic and hard gels, you may notice you need to hold the brush differently. With acrylics, you press into the product with your brush and bounce it up and down a little. On the other hand, gels need a light, feathery touch. Glide the brush down the edge of the nail extension as you cover the rest of the nail. Don't stroke the gel too much either, as this will remove product.
Mixing systems
While there are some exceptions, it is widely recommended to not mix brands. Keep products of the same brand together as a system — chemicals within one brand work together in a certain way, and mixing up products can leading to lifting.
Creating C-curves
You can cut you time down by simply curing the nails upside down and letting gravity do the work. Make sure you keep your lamp upside down as well so the light hits the nails correctly.
Have some edge
For hard gels, after you apply the sealant, file the free edge of the enhancement and lightly buff the underside of the nail. This seems to reduce the amount of separation and lifting that occurs.
Perfect pedicures
To prevent shoe discomfort, the product applied to toes should be much thinner than that applied to fingernails. Use thinner coats or polish exclusively for pedicures.
[Images: Thinkstock/iStock]