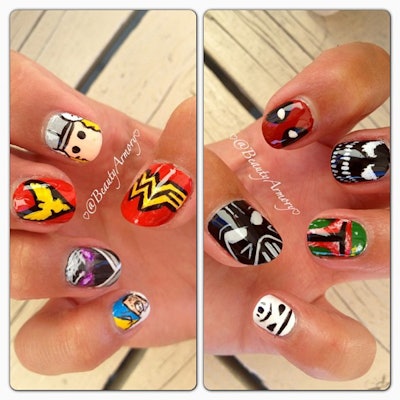 We can't help but Marvel at the pop art nail trend. All over, bright colors, character designs, and comic book prints have been "popping" up! Learning the latest demands for artwork can help you bring in a new, young clientele and make your salon's skills stand apart from others in your area. Check out what some Nailpro readers and other nail artists have created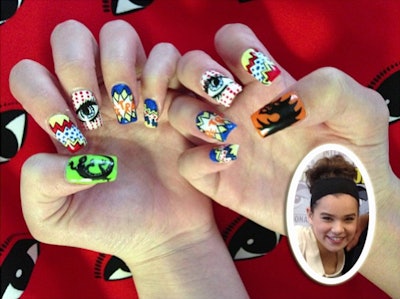 Hailee Steinfeld's nails were all the talk at Comic Con in San Diego. The young actress who starred as Mattie in True Grit now has the lead role in the new sci-fi movie premiering in November: Ender's Game. To pay tribute to this, Hailee's mani incorporated the symbols from the movie's "Salamander Army" and "Dragon Army" on her thumbs and her character's first name, "Petra," inscribed across her ring fingers.
[Image: HaileeSteinfeld; IG@haileesteinfeld]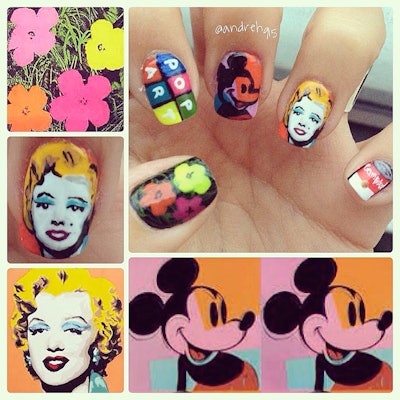 Andrea @andrehq15 created a set of nails based on her favorite Andy Warhol artwork, incorporating the likeness of American icons such as Marilyn Monroe and Mickey Mouse both in the same manicure. The tiny can of Campbell's on the pinky is a fun touch.
[Image: IG@andrehq15]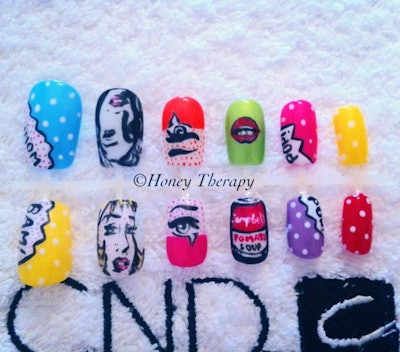 Honey Therapy Salon (@honeytherapy) in the UK created a perfect set of shellac tips based off the artwork of Roy Lichtenstein and Andy Warhol. The vibrant neons pack a powerful punch to the designs: so much so that you'll need those sound bubbles to properly encapsulate it. Pow!
[Image: IG@HoneyTherapy]
Katie of @BeautyArmory's digits have superhuman protection from the combined forces of Thor, Wonder Woman, Wolverine, Spiderman, Venom, Boba Fett, Darth Vader, a Storm Trooper, and more! Having an arsenal of symbols for various characters is a fun way to upgrade a client's services that is more unique than a flower detail: she can opt for special Avengers art on her ring finger to mix up an otherwise plain set of nails.
[Image: IG@BeautyArmory]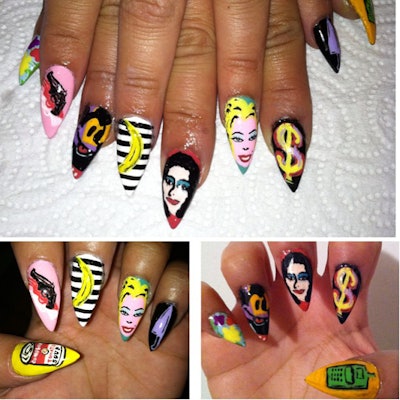 Zuleika of @nailsbys0urpatch_zuly painted pointed tips looking back to Warhol's famous designs of the 1960's. We're loving the completely mismatched look – every nail has an utterly different picture from the rest. With the artist's iconic designs popping up all over the place lately, from black and white striped tote bags with banana patches, to people "Warholling" their Facebook pictures, it was only a matter of time before the trend showed up on nails.
[Image: IG@nailsbys0urpatch_zuly]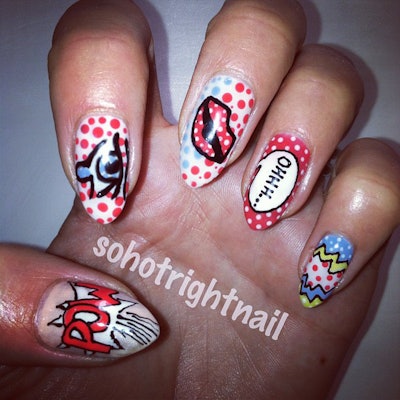 For a more neutral take on pop art that will match will any outfit, @SoHotRightNail created this polka-dotted look. The red, blue, and yellow theme is a throwback to the original simple color printing of comic books.
[Image: IG@sohotrightnail]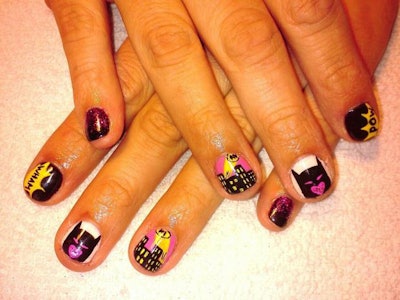 This cute take on Batman was done by Megan, who has been featured in a Nailed Down! on Nailpro. Megan took artistic license to feminize the designs with a pink sky in Gotham City and by giving Batman heart-shaped mouth.
Check out her Nailed Down! interview here >>
[Image: Megan Marsh]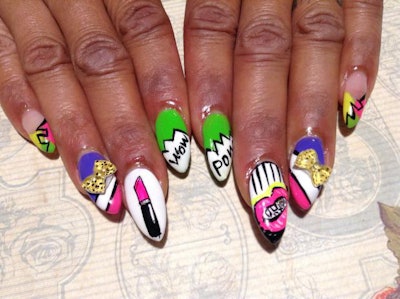 Another girly take on pop art appears in the artwork of Rosa Vargus. Rosa's also been interviewed on Nailed Down! and her nails have pizazz in the eighties colors and jazzy lipstick art. She even goes into the third dimension with gold bows on each ring finger.
See her Nailed Down! feature here >>
[Image: Rosa Vargus]