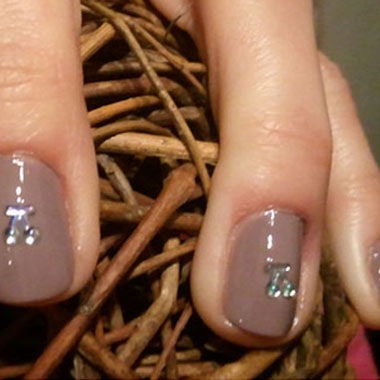 Last night I had a great idea (or so I thought) to create a "cherry mocha" themed manicure with Pixi's Marvellously Mink Nail Polish Marvellously Mink and the cute cherry nail jewels I found in the product closet at NAILPRO (nail jewels were not labeled, so I don't know who makes them). I was going for a milk chocolate colored base adorned with tiny, sparkly red cherries. Instead I got…well, you can see the pictures!
Pixi's new Marvellously Mink polish is a modern shade with gray and beige undertones. At first glance, it looked like it had more beige in it. After applying Marvellously Mink to my nails, the gray was more apparent than I thought, creating a really opulent neutral/mauvish color. I'm in love with it because it's great for lounging or dressing up and unique enough to compete with the bright spring and summer collections out there. And of course, you can amp up this Mink with a little gem like I did. Bonus is that it is a quick-dry formula and really does dry pretty quickly.
I opted for the clear cherries versus red since the color didn't turn out like I had expected, and the cherries were the only things I had on hand. I used SpaRitual's TrueBond Strong Hold Basecoat as both my strengthener and as my adhesive for the cherries. From a distance, I think my manicure looks decent with a very interesting color that I'm glad I introduced myself to.
Lesson from this experiment? Like with hair color, wall paint or lipstick, it always looks different on. You can benefit from having several accessory options on hand to complement the shade that does show up. And if you don't have those extra accessories? Let your true colors and imagination shine with the confidence of knowing that you're not afraid to try something new and personalize it with your own defined style.
Next time I use clear cherries, I'll stick 'em on bright, shiny red nails. Now, there's a great summer theme! —Megan James