Courtesy of Pottle
Nettie Davis, a celebrity manicurist and creator of Pottle, has launched the Pottle Mini!
The Pottle Mini is a compact version of Davis' four-piece separable bottle, aptly named Pottle for mixing nail and makeup materials.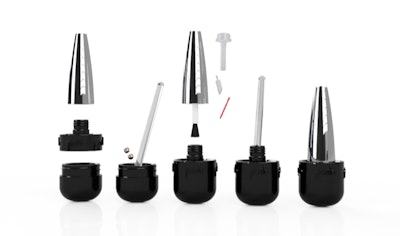 Davis needed something between a pot and a bottle to hold hard gel she could not get into a regular nail bottle.
"I want my favorite gel in a bottle...My clients need custom gels when traveling...Where can I store it? " said Davis. 
The Pottle provides the freedom to create small batches of new colors swiftly, so she created the mini, which holds 15 milliliters. It also fits most standard polish racks and nail storage systems.
Pottles can be used for mixing nail polish, lip gloss and more. They also come with interchangeable applicators available to repurpose your pottle. You can use the crystal wand as a stirrer or applicator.