Ralph Waldo Emerson said, "There is simply the rose; it is perfect in every moment of its existence." And when it comes to nails, there are few designs that have stood the test of time like the rose for its simplicity and widespread appeal. From hand-painted and sculpted styles to scented and hued products, roses are a staple in any salon and certainly a must for Valentine's Day. And lest you feel as though roses are passé, remember that all trends make a comeback (dip nail systems and "baby boomer" French nails anyone?). Here, we provide you with three different techniques for updated and chic rose designs from our friends at Nailholic in Korea that will appeal to any artist. But if art isn't your forte, fear not: We also feature a budding array of products that you can incorporate into any service—for February and throughout the rest of the year.
Hand-Painted Petals by Kyongha Kim, director, Sontopnara Nail Art Design Institute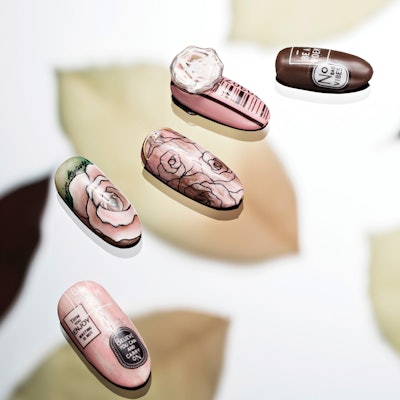 3-D Roses with Gel by Tiara, educator, Gracia Japan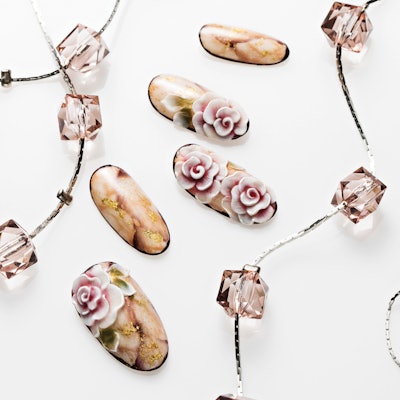 Embossed Acryic Roses by Sujin Lee, director, NCJ Nail Club J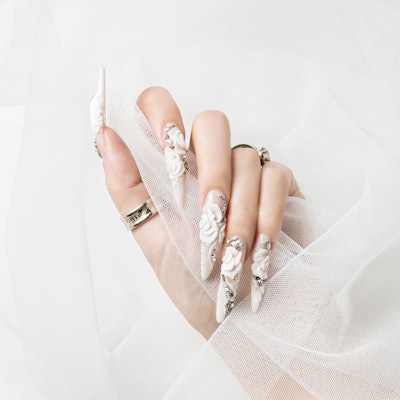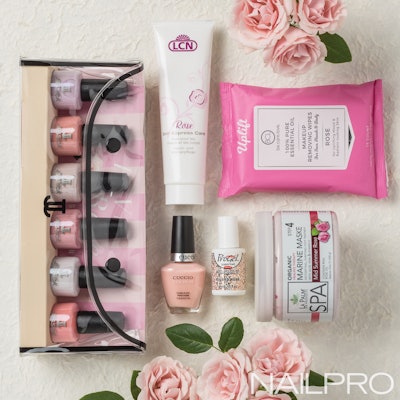 Pictured: Jessica Cosmetics, La Vie en Rose, LCN, Rose 3in1 Express Care, BCL, Rose Makeup Removing Wipes, Cuccio Colour, Texas Rose, SuperNail Pro Gel, Gilded Rose, La Palm Spa, Mid Summer Rose Marine Maske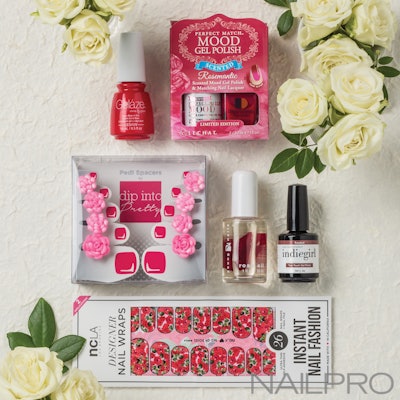 Pictured: China Glaze Geláze, Rose Among Thorns, LeChat Perfect Match, Rosemantic Scented Mood Gel Polish , Dip Into Pretty, Rose Pedi Spacers, Young Nails, Rose Oil , IndieGirl Two-Touch Gel Polish, Rosebud, NCLA, Bed of Roses Nail Wraps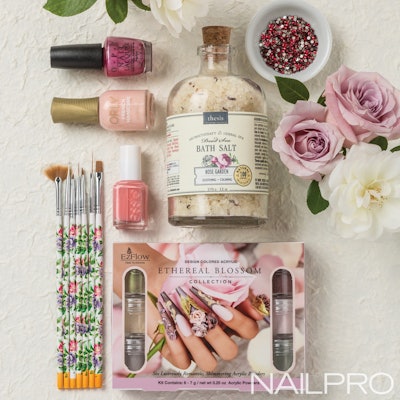 OPI, A-Rose at Dawn…Broke by Noon, Orly, Rose-Colored Glasses , Thesis Beauty, Rose Garden Dead Sea Bath Salt, Swarovski, Xilion Rose Crystals, DL Professional, Rose Nail Art Tool Set, Essie, Stones N Roses, EzFlow, Ethereal Blossom
What do you think of these tutorials and rose-inspired products? Let us know in the comments below!
[Photography by Brooks Ayola, Images: As seen in NAILHOLIC; Photos: Taeheon Kwon, Hyuntak Lee; Editor: Sun Hyun]