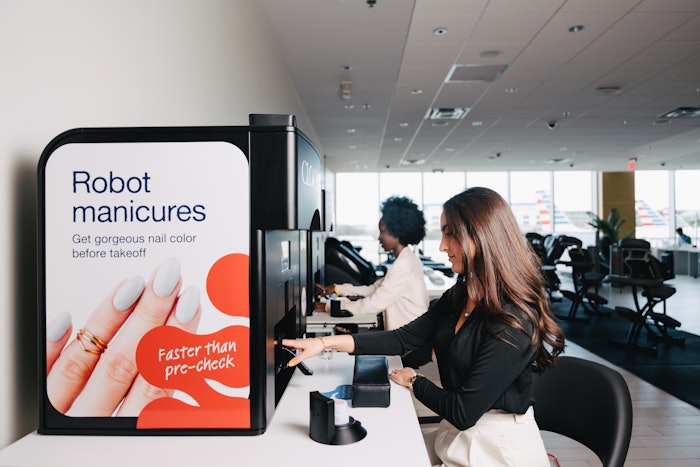 Courtesy of XWELL and Clockwork
XWELL, Inc., in partnership with Clockwork, launched the use of Clockwork's next generation, fully autonomous, AI-powered express manicure in the XpresSpa location at Miami International Airport (MIA) in Miami, Florida. 
MIA's North Terminal, Concourse D is the second airport location in the world to feature robot manicures following the debut at John F. Kennedy International Airport's Terminal 4 in March 2023.
"As the first in the world to introduce this type of technology in the airport setting, we're pleased to announce the launch of our second location," says XWELL Chief Executive Officer Scott Milford. "With Clockwork, we have unveiled a new option for people on the go to enjoy a manicure. It is state-of-the-art and efficient, and just one way XWELL is enhancing its spa services to meet the needs of clients on their journeys."
The Clockwork MiNiCURE is an express manicure service that delivers high-quality polish color through automation. Its latest version features a fully autonomous robot that uses proprietary artificial intelligence with 3D technology to paint nails effectively within minutes. An easy-to-use touchscreen guides travelers through the Clockwork experience, with an intuitive live support feature available any time help is needed. Additionally, the Clockwork MiNiCURE experience includes automated nail polish removal as well as a free polish remover pot to take home.
"Bringing Clockwork's robot manicures to XpresSpa MIA through our partnership with XWELL is an exciting milestone. As a hub for layovers to popular vacation destinations, MIA is an ideal location for travelers to get a fresh coat of polish before takeoff. This new location marks the continued success of our partnership with XWELL to transform and innovate services for travelers," says Clockwork Founder and Chief Executive Officer Renuka Apte.
XWELL will launch up to five of Clockwork's AI-powered robots during the initial launch phase with the intent to deploy as many as 34 units across the company's portfolio of 34 spa locations.
For more information about Clockwork, visit likeclockwork.com.