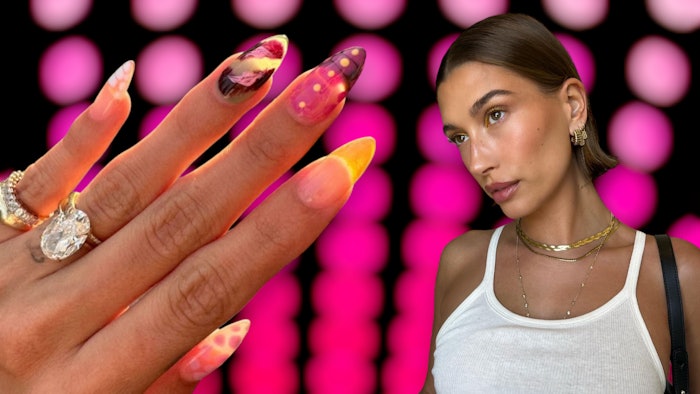 Courtesy of Hailey Bieber (@haileybieber)
With concert season kicking into full gear, maximalist nails are the hottest trend of the summer. 
"Vibrant and maximalist fashion trends have surged in popularity recently. This is possibly influenced by major concerts like Taylor Swift's Eras Tour, Harry Styles' Love on Tour, and Beyoncé's Renaissance World Tour where attendees have worn flamboyant, sparkly and colorful outfits," shares Liana Thomson, nails.co.uk beauty expert. "Influencers are embracing the trend of bold and vibrant colors, intricate patterns and eye-catching embellishments." 
While she may be known for her minimalist glazed donut nails, Hailey Bieber is the most recent celebrity to jump on the abstract, maximalist nail trend, debuting a set of colorful dotted, marble and French tipped nails. 
"Each nail boasts a unique pattern, perfectly blending nine vibrant colors that scream summer," Thomson explains. "Among the stunning shades featured are green, lemon, purple, raspberry pink, baby blue, black, white, pale pink, yellow orange and lime." 
If you want to create Bieber's nail look for your clients, you can follow this tutorial below.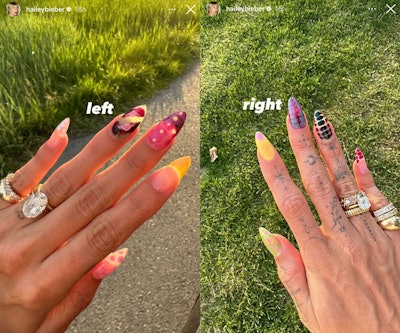 How-To: 
Choose two colors for the marble effect that you desire.
Place a generous amount of each nail varnish on a wipeable surface, creating two adjacent stripes. For example, if you chose black and pink, create one stripe of black, followed by pink, and then another black and pink stripe next to it.
Using a toothpick, lightly swirl the two colors together, creating a beautiful marble pattern.
Next, scoop up a portion of the swirled varnish using a small, flat nail brush and gently paint it onto the nail.
If your client desires a clear-centered stripe like Hailey's, you can apply the marble effect onto a clear nail and then carefully wipe away some of the excess varnish.