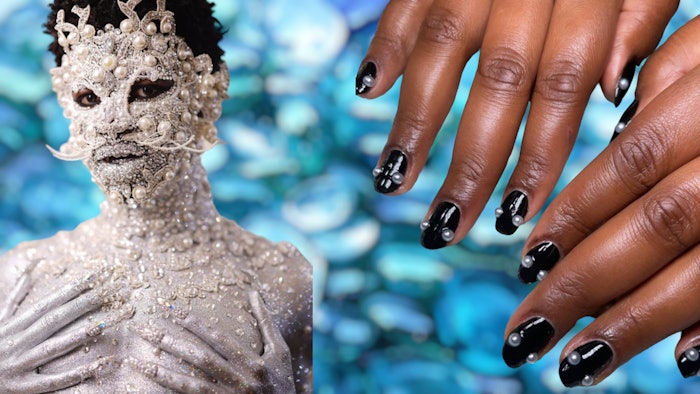 Courtesy of Getty / Matt Winkelmeyer/MG23 and @eriishizu
The stars dazzled on the Met Gala red carpet, sporting all different types of nail looks and showing of their takes of the latest nail trends. 
Nails.co.uk has analyzed 25 popular nail looks from the Met Gala 2023, by uncovering the number of posts each nail trend has received under the relevant hashtag on Instagram to uncover the most grid-worthy looks.
Here's what they found: 
Lil Nas X had the most Instagrammable nails at the Met Gala 2023. Because 3D nails aren't a simple DIY manicure, it is understandable that this type of look is one many photograph and rush to post on the gram. Lil Nas X's nails for the night were created by manicurist Temeka Jackson. 
Pearl nails were also on theme and a popular look for the night. Lizzo wore another 3D look: pearls. Her look was a simple black mani with 3D pearls to finish. 
"Karl Lagerfeld: A Line of Beauty" was the theme at the Met Gala this year, and Lagerfeld was known for using black and white, layered pearls and chains, making this nail look very on theme.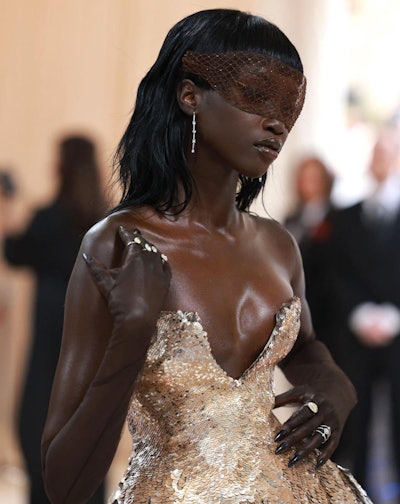 Anok Yai's nails also stole the show at the Met Gala, alongside her gorgeous outfit. Anok Yai has received of positive feedback on social media for her look worn to the Met Gala this year. This is likely because every detail was considered, all the way down to her nails. Yai wore black metallic nails underneath sheer black gloves, making even her hands as attention-grabbing as everything else she wore.
You can see a list of the top ten most grid-worthy nail looks from the Met Gala 2023 below: 
Lil Nas X's #3Dnails: 693,846 posts
Lizzo's #pearlnails: 133,831 posts
Anok Yai's #metallicnails: 113,914 posts
Naomi Campbell's #babypinknails: 102,728 posts
Emily Ratajkowski's #blackfrenchnails: 98,520 posts 
Madelyn Cline's #glazeddonutnails: 40,544 posts 
Rita Ora's #jewelrynails: 25,522 posts 
Kylie Jenner's #classicrednails: 13,305 posts 
Michaela Coel's #bronzenails: 12,267 posts
Vanessa Hudgens' #blackwhitenails: 8,320 posts