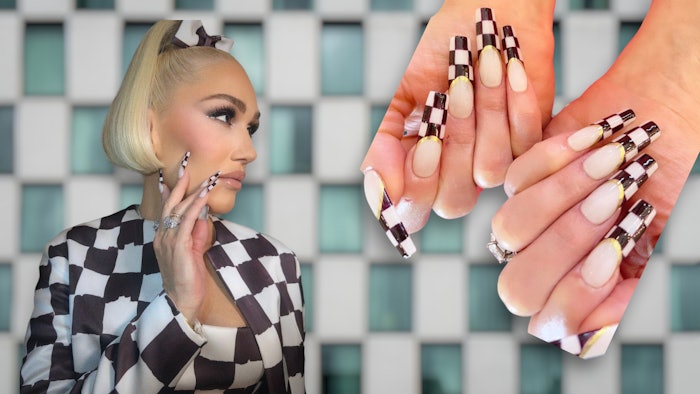 Courtesy of Eri Ishizu (@eriishizu)
A new season of The Voice has kicked off on NBC and Gwen Stefani is back as a judge! 
For the premiere, Stefani rocked a bold checker print outfit with nails to match! Manicurist Eri Ishizu (@eriishizu) created Stefani's nail look for the premiere, using products from Paris Lash Academy. 
"Gwen wanted her look to match her outfit," Ishizu shares. "Checkerboard is her signature design, and always her go-to!"
Below, you can learn how to recreate this look, featuring a stunning gold chrome rim. 
How-To: 
To create the base color, mix two PLA colors: Sun-Kissed and Blushin' Baby. Apply two coats before curing. 
Then, it's time for the checkerboard! Use a mixture of On The Down Low and You Can't Tell Anyone to make a deep, bold maroon-plum custom creation. To create the precise checkerboard, use a skinny brush and paint the checkerboard one by one. 
For the outline, use a gold chrome powder of your choice.
To finish the look, use The PLA Non Wipe Top Coat for more shine and additional protection.