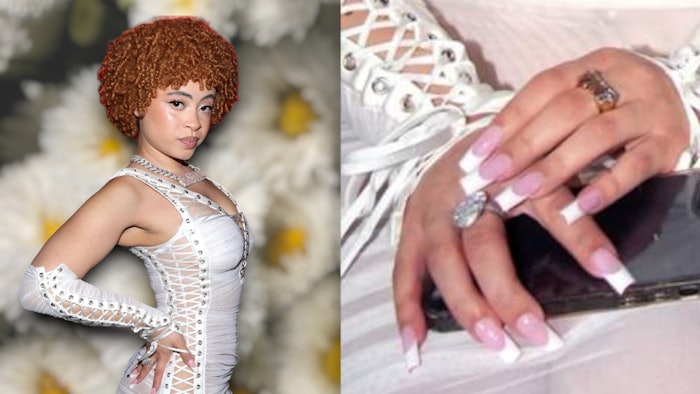 Courtesy of Eri Ishizu (@eriishizu)
Ice Spice was awarded Best New Artist at the 2023 VMAs. 
Celebrity nail artist Eri Ishizu (@eriishizu) created the ultimate early-2000's inspired French manicure for Ice Spice using products from OPI.
"Ice Spice's outfit was inspired by Britney Spears' 2003 VMAs look, featuring her in a white dress and rocking a French mani for her famous performance," Ishizu shares. "OPI is such an iconic brand that it was only fitting to take it back to an iconic moment in VMAs history featuring the pop icon and early-2000's aesthetic with a thick white tip." 
Follow the step-by-step tutorial to recreate this look for your clients. 
How-To: 
Begin by prepping the nails. 
Apply gel base coat. 
Once dry, apply two coats of OPI's Put It In Neutral. 
Create a white French tip using OPI's Alpine Show. 
Seal the look by applying gel top coat.