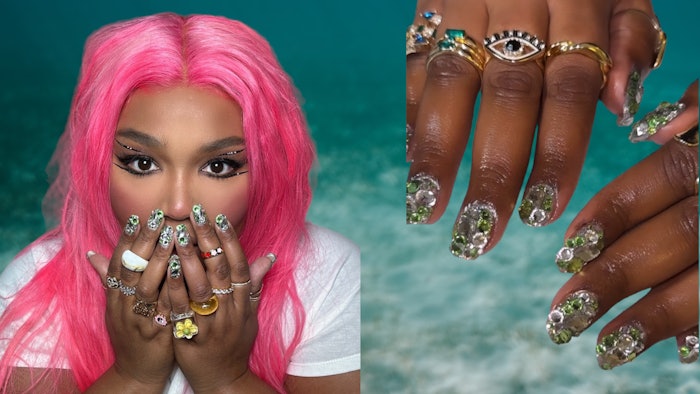 Courtesy of Eri Ishizu (@eriishizu)
Lizzo headlined the recent Governors Ball in NYC on June 9, 2023, debuting pink hair and mermaidcore mani. 
Manicurist Eri Ishizu (@eriishizu) created the nail look using products from CND. 
If you want to recreate these nails for your clients, look no further! Below, Ishizu shares her step-by-step tutorial for creating Lizzo's trending mermaidcore manicure. 
How-To: 
Begin with nail prep.
Apply a coat of bonder gel, and cure in an LED nail lamp.
Using nail forms with builder gel, build desired nail length, shape and architecture. Cure. 
Clean with 99% IPA. 
Shape and refine the nail using a 180 grit file & buffer.
Repeat step 4. 
Apply two coats of a sparkly gray gel polish for a silver chrome look. Cure. 
Apply a coat of no-wipe top coat. Cure. 
Using builder gel, secure green and clear rhinestones of varying shapes and sizes to cover all the nails. Cure. 
Finish by moisturizing the nails with cuticle oil to condition the nails and cuticles.