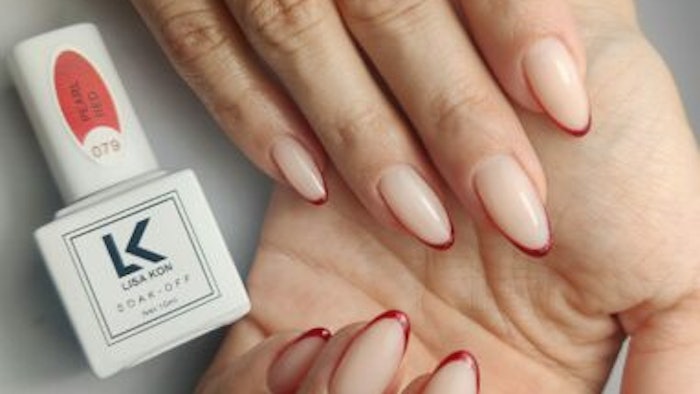 Kourtney Kardashian showed off her Disney-inspired nails via her Instagram story!
Kourtney rocked an almond-shaped multitoned French design with a shiny pastel pink base and thin cranberry-red tips, done by Lisa Kon.
Lisa used products from her own collection to complete the look: her Gel Polish in Pearl Red, as well as her Rubber Base Coat and Super Shiny Top Coat.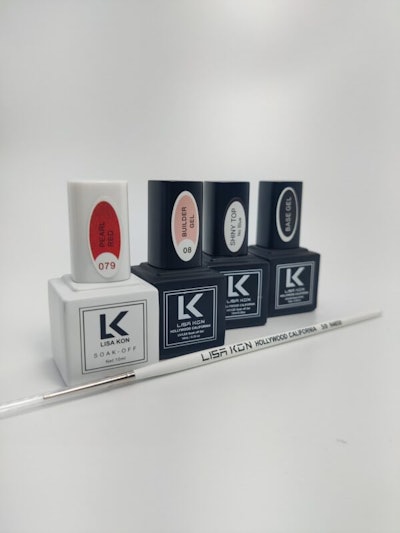 To achieve this look:
Remove the previous gel polish with a drill bit, leaving a thin layer of base on the nails. These are her natural nails, no extensions.
Shape the free edge into an almond shape.
Perform Russian cuticle work using an e-file and diamond tip head, finishing with removing and clipping the excess cuticle away.
Apply the dehydrator to the entire surface of the nail, and let it evaporate for 10-20 seconds.
Apply pH bond to the entire nail for better adhesion of the natural nail and base coat.
Apply a base coat to the entire surface of the nail in a thin layer using rubbing movements.
Before painting, remove the sticky layer from the nail plate with alcohol.
Using a fine line brush to apply the red polish, paint a thin, deep smile line (the Russian style of a French manicure).
Once all 10 nails are finished, apply Super Shiny Top Coat.
Check out Lisa Kon Kourtney Kardashian May Manicure Kit.