It's not often that we have two extremely ambitious, talented and excited Canadian nail technicians in our office—so it was great fun to spend the day with Christina Cronk and Natasha Harton for the creation of the January cover. This dynamic duo has unique styles, but they were committed to making their specialties work together. We provided them with a color palette (royal blue and black) and each took one hand to call their own. Cronk extended the model's nail bed, then created an extreme black-to-blue faded French, and embellished the remaining nails with dazzling crystals and intricate acrylic-sculpted roses. Harton, on the other hand, unleashed her inner artist, hand-painting tips like a modern Vincent van Gogh and encrusting them with loads of tiny silver seed beads, crystals and a prefabbed blooming acrylic flower.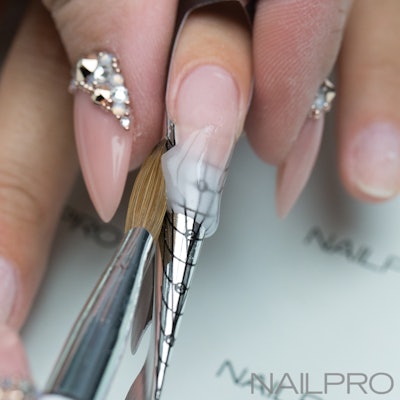 1. Harton began by extending the model's nail. She first used cover pink acrylic on the nail plate, then continued extending the nail with clear acrylic.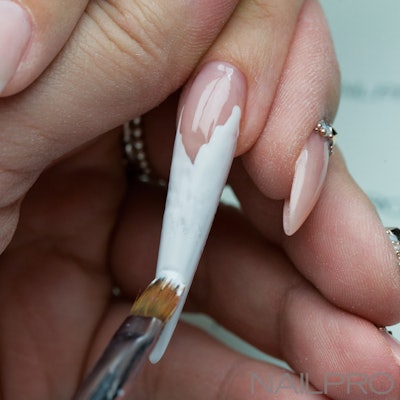 2. She then used white gel to coat the entire free edge. For this design, she opted for an imperfect smile line with more jagged edges.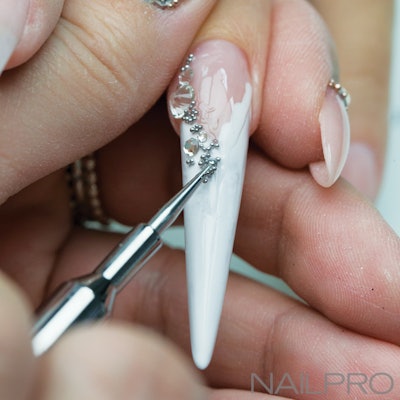 3. Next, Harton applied a coat of clear gel and began adhering stones and silver seed beads along the smile line.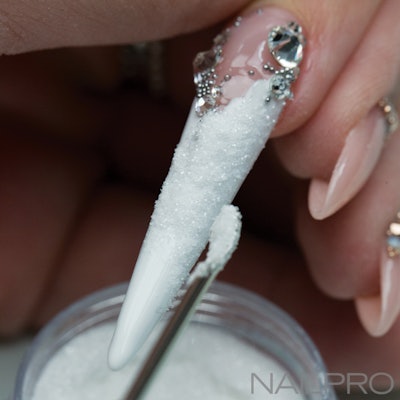 4. After curing, she applied another layer of gel along the length  of the nail and created a "sugaring" effect by coating the nail with fine white glitter powder.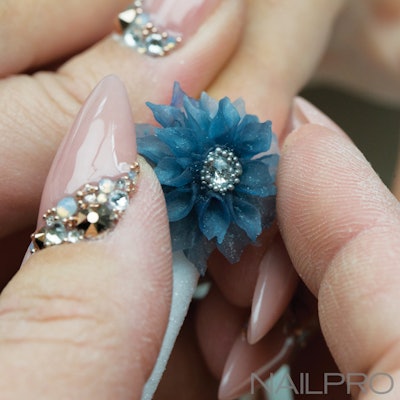 5. Harton sculpted the delicate acrylic flower before arriving on set (a huge time-saver!) and applied it with a large bead of clear gel.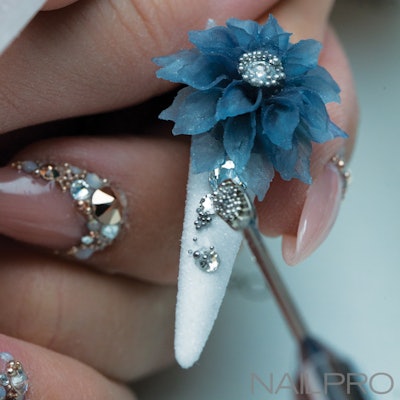 6. Finally, she went back in with crystals and seed beads to embellish the rest of the nail.
Watch the making of this cover look in the video below.
What do you think of the January 2018 cover of NAILPRO? Let us know in the comments below! 
[Cover credits: Photography by Angela Marklew, Makeup by Harriet Hadfield, Hair by Victor Mendoza]