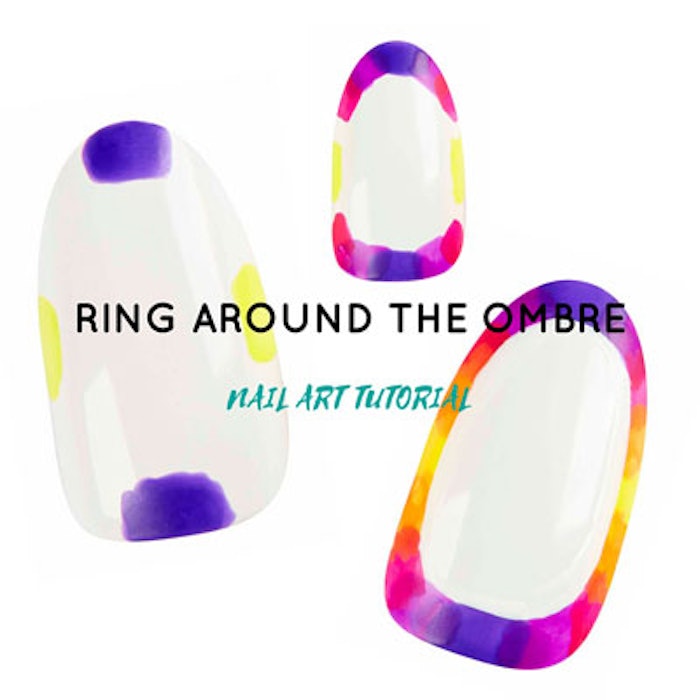 Learn how to create this playful ombre nail art by Miss Pop using China Glaze polishes!
Nail Art Tutorial: Ring Around the Ombre
This fun design by Miss Pop features a gorgeous ombre rainbow that wraps around the nail. With bright colors like purple, yellow and coral, this nail art design is the pop of color your client's summer needs.
Learn how to recreate the look with the infographic below. Don't forget to Pin it for later!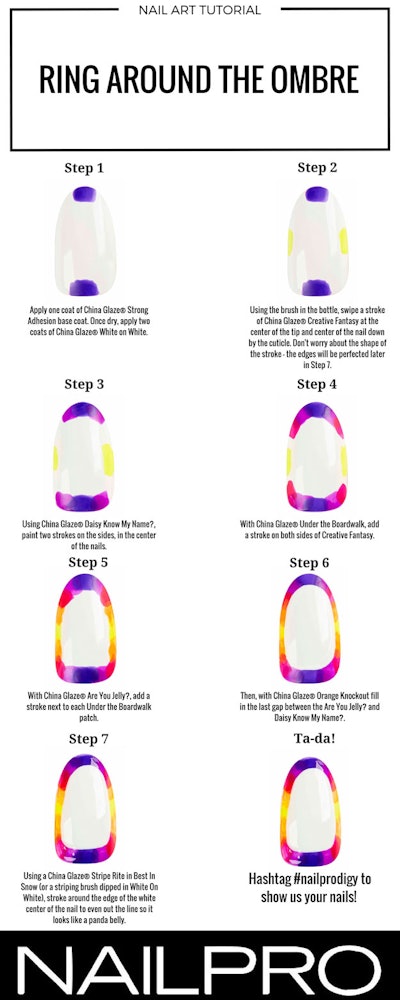 Need a magnifying glass to see the text? No worries–below are the instructions to this inspirational look.
Apply one coat of China Glaze® Strong Adhesion base coat. Once dry, apply two coats of China Glaze® White on White.
Using the brush in the bottle, swipe a stroke of China Glaze® Creative Fantasy at the center of the tip and center of the nail down by the cuticle. Don't worry about the shape of the stroke – the edges will be perfected later in Step 7.
Using China Glaze® Daisy Know My Name?, paint two strokes on the sides, in the center of the nails.
With China Glaze® Under the Boardwalk, add a stroke on both sides of Creative Fantasy.
With China Glaze® Are You Jelly?, add a stroke next to each Under the Boardwalk patch.
Then, with China Glaze® Orange Knockout fill in the last gap between the Are You Jelly? and Daisy Know My Name?
Using a China Glaze® Stripe Rite in Best In Snow (or a striping brush dipped in White On White), stroke around the edge of the white center of the nail to even out the line so it looks like a panda belly.
Allow a few minutes for the polish to dry then seal design with China Glaze® Fast Forward top coat.
Hashtag #NAILPROdigy to show us your summer ombre nails!