Use Cuccio Colour's new spring collection, Colour Cruise, to create the perfect nautical nail designs to help you sail on through to summer!
Products used:
+ Cuccio Nail Solutions base coat
+ Pier Pressure (6186)
+ All Decked Out (6187)
+ All Tide Up (6190)
+ Got the Navy Blues (6188)
+ 2 am in Hollywood (6051) for design work
+ Cuccio Nail Solutions 7 Second topcoat (6279)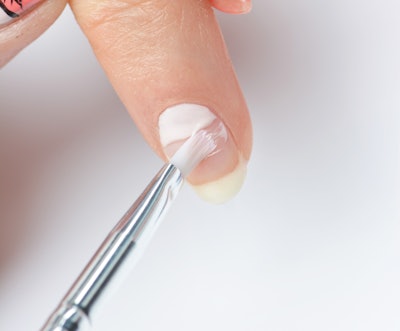 Step 1. Prep all 10 nails, after cleaning the nail plate apply Cuccio Nail Solutions Base Coat to all 10 nails. After base coat is dry start applying your first coat of nail lacquer.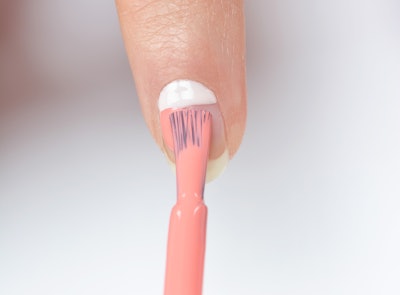 Step 2. Start at the cuticle using Pier Pressure (6186) Float the product to create the first layer of product, using a clean up brush, clean up the area so you can begin to layer the next color, repeat this process until all 4 colors are applied: Pier Pressure (6186), All Decked out (6187), All Tide up (6190), Got the Navy Blues (6188).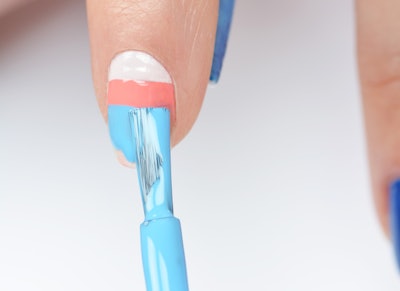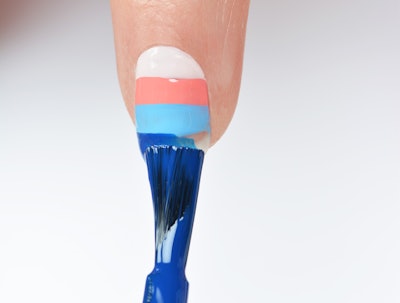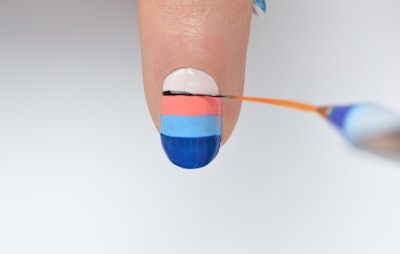 Step 3. Using 2am in Hollywood (6051) and a nail art striping brush drop a blob of black onto a piece of paper so you can dip your striping brush in the black lacquer, using the black to create a clean lines between color layers. Let each layer dry before moving onto the next step.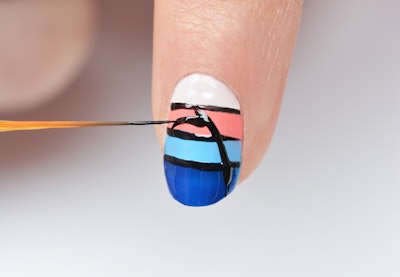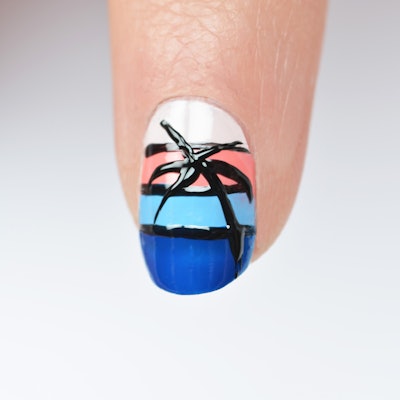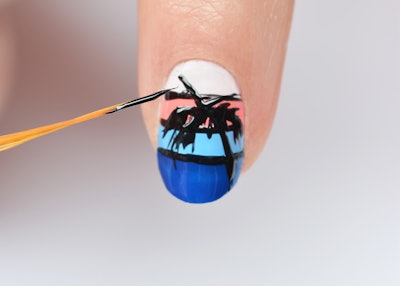 Step 4. Creating a palm tree using the striping brush creating leaves with a brush/feathering technique. After the palm tree is fully dried apply the Cuccio Nail Solutions 7 second topcoat. You can also finish the set of nails off with some new Cina Nail Art Charms at Sally's Beauty Supply Called Nail Selfies.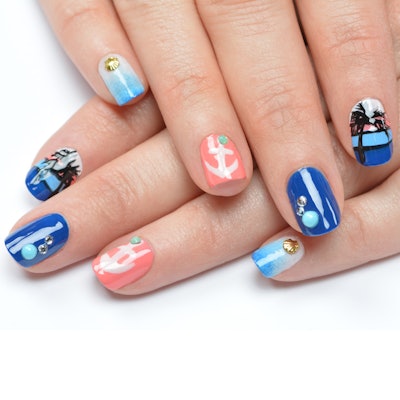 Images: Cuccio