Look at the services offered at most nail salons and you'll see options galore, from basic manis and pedis to acrylic, silk or gel extensions to fills and repairs to spa treatments and more. But, in the years since nail art took the industry by storm, some businesses have opted to narrow their focus almost exclusively to manicures, with an emphasis on designer digits. "Social media has played the largest role in nail art's enduring popularity," says Natalie Minerva, a Los Angeles-based celebrity nail artist who has worked with A-listers including Ariana Grande. "The world now has access to millions of photos of nails via Instagram, Tumblr and more—but new products and other advancements in nail technology have contributed to the perpetuating trend as well." Here, Minerva and five other salon owners explain their reasons for putting so much faith in what others may have thought was a passing fad, how they've seen the nail art phenomenon evolve through the years and why they believe that its appeal isn't going anywhere but up.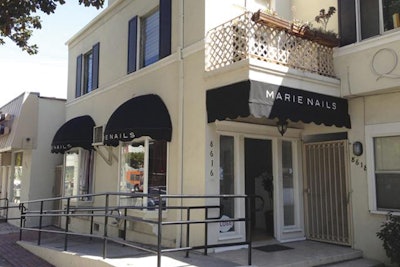 Marie Nails
Founded in Japan in 2002 by Masomi "Marie" Ueno, Marie Nails is often credited with bringing the gel nail art craze to Los Angeles in 2006, when its first U.S. salon opened. Today, Marie Nails is both a salon and a school, and can be found in 19 locations worldwide, including New York, California, Hawaii, Korea and Japan. Marie Nails artists are some of the most sought out by celebrities and fashion-conscious clientele, thanks to the precise, intricate and innovative designs they create.
Why did you decide to make nail art the primary focus of your business?
May Ogawa, U.S. Director of Marie Nails: I am a nail artist myself, and I know how this business works from the inside—for example, what products or what techniques are best to use. My passion for nail art made me want to create Marie Nails.
How do you find your nail artists?
Nail art is very hard and precise work, and it involves much more than just creativity. Even if you are a talented artist, you must study and then practice a lot to become a nail artist. So, when we are looking for a nail [tech] to join our team, we hope to find someone who is not only art oriented, but also hardworking and has no limits when it comes to self-improvement.
How do you stay relevant, given that nail art is so trend-driven?
We do research to find out about the latest innovations around the world, but often our customers bring us ideas. Sometimes, it's a famous piece of art or something from a new fashion collection, or sometimes even their pets' pictures. After gaining all of the information, we try to create something new to make sure we are not just following a trend, but are ahead of it.
What are your most popular looks?
It varies by location. We have three Marie Nails in Los Angeles and two in New York, and even the most requested designs there are totally different from each other. But, I have been in the industry for a long time, and French nail art has always been popular. Of course, there are many different varieties, but the idea has stayed the same.
How have you seen the business of nail art evolve through the years?
When I was just starting out, the nail product options were very limited—all we could do was a single color and, if we were artsy enough, a small design, which probably wouldn't last long. Nowadays, there is so much variety. There's no problem extending the nails' length without damaging them or creating any composition you can think of, like aquarium nails, snowball nails or even unicorn horn nails.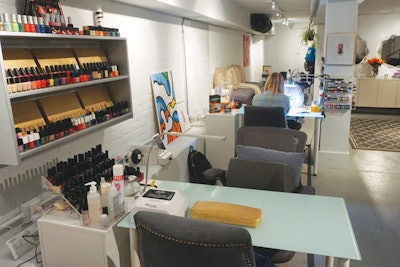 Sparkle, San Francisco
When San Francisco native Mia Rubie began doing nail art in 2008, it was simply for fun. But as with any other eye-catching accessory, her designs soon caught the attention of others who wanted to know where they could get their own digits done. Four years later, Rubie opened a small, private studio while still working full-time in communications. "I wasn't certain that it would last, but clients came knocking once I was in business," she says. "After about a year, I realized this was not a passing trend, and there was enough clientele to quit my day job, expand and support myself." Today, Sparkle San Francisco is an appointment-only studio in the city's Mission District, focused on unique nail art created by a collective of independent nail artists.
Why did you decide to make nail art the primary focus of your business?
Mia Rubie: Because of demand; customers seek us out for nail art because there aren't many places in San Francisco that can do it. Also, it keeps our jobs interesting and we get to be very creative.
How do you find your nail artists and create your featured designs?
One artist was a client of mine who turned out to be amazing at nails (@sfnoma), and I've met other artists through networking at trade shows and on social media (such as @nailjerks and @itsagcreation). We don't have a nail art menu, per se, but we do post our best designs on Instagram. Our customers will usually browse our accounts before their appoint- ments and pick something they like.
How do you remain relevant and come up with new designs?
We spend time experimenting with new looks and products and bounce ideas off each other. We have a lot of clients who are ready and willing to let us try new designs on them. We also stay on trend by watching social media. If something new and exciting comes out, chances are you'll see it on Instagram before you see it anywhere else. Also, Japanese nail art magazines have a wealth of interesting ideas.
What are your most popular looks?
It changes all the time. For a while, I was doing a ton of abstract, paint splatter-inspired designs and a lot of watercolor-based designs. Right now, I'm seeing a lot of chrome pigment designs.
How have you seen the business of nail art evolve through the years?
When I first started doing nails, designs were somewhat limited, but now women aren't afraid to ask for anything and everything. The level of adventurous- ness has skyrocketed.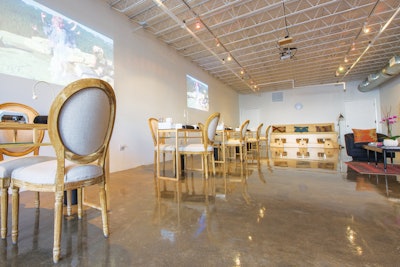 Vanity Projects
Founded by independent art curator Rita de Alencar Pinto in 2009, Vanity Projects began as a pop-up nail art project in the homes and studios of friends and artists. "I went to a nail appointment with Naomi Yasuda; I traveled to London where I met with Sophie Harris-Greenslade, a.k.a. The Illustrated Nail; and I met Fleury Rose in Bushwick, Brooklyn, where we both lived," says Pinto. "With these three amazing artists, we started to do pop-ups in my art world peers' homes and offices." Soon after, there were offers to present at fashion events, museums, art fairs and more. That led Pinto to open Vanity Projects in Manhattan's Lower East Side in 2013, where international nail artists offer their talents by appointment only. In May 2015, a second location opened in Miami.
Why did you decide to make nail art the primary focus of your business?
Rita Pinto: I have always been interested in art, but after the [stock market crash in 2008], I felt I had to create a business that would persist in times of struggle. It has been said that even in a failing economy, nails will prevail because they're intrinsic to your grooming and make you feel put together. In today's culture, we strive to make our mark and nail art helps depict that mark— hence, vacation nails, birthday nails, bridal nails and Star Wars nails! So, I started approaching nails in the same way I did my curatorial practice.
How do you find your nail artists?
Vanity Projects is a nail artist in residency program, which means I invite artists from all over [the world] to come to the salon for a limited time. It's based on a fine art/artist in residency program model.
How do you stay relevant?
I look at art, music, fashion, lifestyle and architecture to find inspiration and infuse it into what we do every day.
What are your most popular looks?
This ranges seasonally, but to be honest, the most basic things are the most popular. There is no menu at Vanity Projects. Everything is bespoke. Negative space nails have been a huge trend for a while, but it's what you do with that negative space that's exciting.
How have you seen the business of nail art evolve through the years?
I have seen nail art grow exponentially in the last nine years. It has always been a demure runway statement, but there are still very few artists who can hand-paint the details that I have seen come through Vanity Projects, and that inspires me.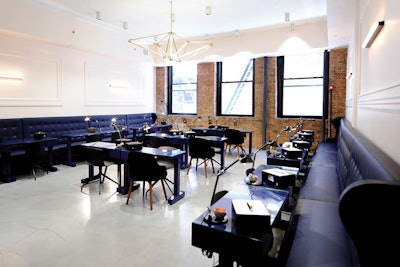 Paintbox
Of all of the nail art-focused studios on the map, New York City's Paintbox is arguably one of the best known in the business. Founded in 2014 by veteran magazine beauty editor Eleanor Langston, who observed the rise of nail art on fashion runways and in editorial spreads, the studio set out to transform the traditional manicure experience. That's accomplished in a variety of ways, including a menu/look-book carefully curated by Paintbox creative director Julie Kandalec, a celebrity manicurist who has tended to the tips of Demi Lovato and Emma Roberts, among others. The haute designs have helped to fuel the brand's massive social media presence; the studio even has a mani-cam so clients can instantly upload their nail art, post-appointment. "We are a modern studio focused on manicures only," says Langston. "That includes curated designs, a seasonal color pairing guide and thoughtful details, like complimentary champagne and one-on-one consultations with top artists."
Why did you decide to make nail art the primary focus of your business?
After working in editorial at various magazines for more than 10 years, I saw the boom in nail art, and I'm so excited to see how it has evolved into something sophisticated and modern. Our nail designs have helped us build a brand that's a leader in the industry. Different parts of our studio affect women differently, but the most important intention is instilling confidence and happiness in everyone.
How do you create your featured designs?
We have an incredible team of artists who make this process super dynamic. We gather submissions from our creative director and manicurists, as well as take note of upcoming trends and colors within the nail industry. We're continually looking for inspiration in architecture, art, interior design, fashion and, most importantly, our clients.
How do you stay relevant, given that nail art is so trend-driven?
We continually take a fresh approach to designs. This season, we are focused on never-boring neutrals, designs on the sides of the nails and sculptural angles.
What are your most popular looks?
Our clients love anything metallic and reflective. Glitters and foils are an accessible entry point to nail art and generally make people really happy. Plus, as nails become more of an accessory, it's common to see them done in rich metallics.
How have you seen the business of nail art evolve through the years?
It's definitely on the rise, and it's extraordinarily flattering that clients travel to Paintbox as a destination during their visits to New York. Social media plays a huge role [in our evolution], and we've been super strategic in building a consistent and modern brand, focused on elevating both the industry of nail art and the designs themselves. We are excited for the future of both nail art and Paintbox.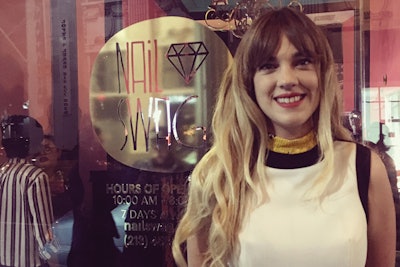 Nail Swag Design Lab
As a celebrity nail artist, Natalie Minerva knows plenty about beauty trends, but there was one particular innovation that caught her attention back in 2010. "I'll never forget the first time I saw Japanese 3-D nail art; I could not stop thinking about it!" she says. In addition to continuing to work with A-listers, she opened Nail Swag Design Lab in Downtown Los Angeles in 2016 to bring Japanese-style gel nail art to a wider audience. "We get a lot of artists, musicians and fashion industry people, and at least 75 percent of what we do is custom," Minerva notes. None of those services are done with traditional nail polish or acrylic; the lab focuses exclusively on Japanese-style gel and extensions. Minerva has also continued her efforts to make nail art more accessible to everyone with the introduction of the Nail Swag Deluxe Gel Manicure Kit.
Why did you decide to make nail art the primary focus of your business?
Natalie Minerva: I've always said that nail art has a personalization just like tattoos. It's designed specifically to the client's request to accentuate their personal style. It's an extension of themselves.
How do you find your nail artists and create your featured designs?
I find most of the artists through Instagram. I'll admit, I'm particular about who can be in those chairs. They must excel in gel art, gel extensions and shaping. I can proudly say, though, that they all have their own strengths. The best part about this industry is finding your own voice in your art, and each of our artists has that. I create the nail menus for the shop, however our nail techs have their own menus specific to them to show their individual style to our clients.
How do you stay relevant, given that nail art is so trend-driven?
I try to go with my gut rather than look at the nail world to see what's "hot," although I do research new products and I'm always willing to try new things. I guess I just try to be myself in nail art. I think that when you trust your intuition, your art is better because of it; it comes across as more authentic.
What are your most popular looks?
The dichroic opalescent nails I've been doing for a couple of years were a huge hit. We also use a lot of line stickers to create different patterns, and that's something we've included in the new Nail Swag Kit. They're great because they look super clean, and you can create endless combinations of nail art with them.
How have you seen the business of nail art evolve through the years?
I've seen a massive influx of nail artists since I first started. The interest of wanting your nails done turned into the interest of doing nails. Nail art is global now and I love it. I've also seen certain styles peak throughout my career, from stiletto nails to super chunky 3-D to this massive chrome trend. It's very interesting to watch.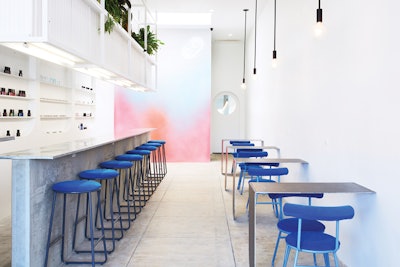 Color Camp
One of the most recent arrivals on the nail art-focused scene, having just opened its doors in Los Angeles this summer, Color Camp was hugely inspired by Instagram and is especially eager to attract millennials. "I had personally become frustrated that I wasn't able to recre- ate the manicures I was seeing on Instagram at my local nail shop," says founder Lauren Caruso. "I wasn't looking for crazy designs, just something to personalize my manicure while keeping it work [appropriate]." Figuring she couldn't be the only one feeling that way, Caruso created a pop-up nail shop in December 2015 with a menu prompting customers to build their manicure with a choice of color, shape and two accent nails using foil, studs or striping tape. "Out of the 120 manicures we did over the two days, 114 of them included nail art," Caruso says. "Many people told us they had never even considered anything more than a basic manicure until we gave them the choice." Color Camp strives to make nail art appointments easy to book and offer transparent pricing as well as personalized, on-trend designs.
Why did you decide to make nail art the primary focus of your business?
Lauren Caruso: I noticed that there were a ton of celebrity manicurists doing cool stuff that I had never seen before and a lot of it didn't look complicated— they would add a tiny silver stud or a little bit of gold foil and the manicure was transformed. This made me realize how accessible nail art could be.
How do you find your nail artists and create your featured designs?
Instagram! Nowadays it's so easy for artists to showcase their skills and get 'discovered.' We love finding artists who are experimenting with new trends, but more importantly we look for artists who have mastered the basics. One of the biggest things I've learned from our lead nail artist, Maya McCreary, is the importance of perfecting fundamental designs: French, half moon and ombré. These are the building blocks for a lot of nail art, but personalization is key. When you come to Color Camp, you can choose from one of our seasonal looks or build your own.
How do you stay relevant, given that nail art is so trend-driven?
As lead nail artist, Maya is always keeping an eye on what's new in fashion, art, design and especially nails. Through social media, fashion shows, magazines or just by observing what's happening in our neighborhood, we're able to stay on top of what people want in their nail designs. We also want to be part of the conversation about what's relevant, so you'll see trends at our salon that you won't find anywhere else. It's important for us to maintain our own take on established and emerging trends.
What are your most popular looks?
Color Camp is built around the idea of simple but creative and flexible designs. Generally, people like metallic designs and French nails.
How have you seen the business of nail art evolve through the years?
People used to gravitate toward gems and 3-D art, sort of like a playful way to embrace a new trend. Some people still like a more expressive nail design, but more often, [we get requests for] simple designs because people want something that goes with different outfits or accessories. With nail art, you can be creative and expressive with less risk—since it's impermanent, whatever art you choose will be replaced in a couple of weeks.
–by Alexa Joy Sherman
This article was originally published in the November 2017 Issue of NAILPRO Magazine.
[Images: Courtesy of each salon]