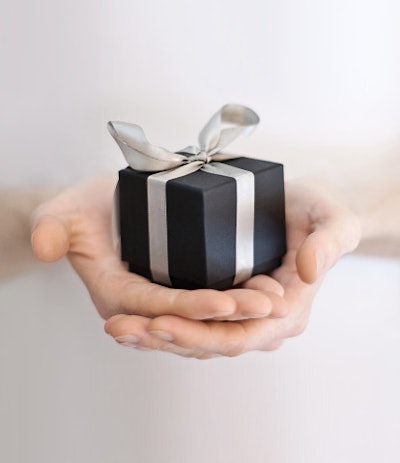 It's been argued that the act of gift giving is an art. From consideration of the specific occasion to awareness of a recipient's personal tastes, finding the perfect present isn't easy. To kick off the holidays, 17 nail techs reflect on the best gifts that they've ever received from clients. Some lavish and others intangible, all share the same quality of being exceptionally meaningful.
Michelle Sproat, Director of Education, Inspirations & Inspiring Nails Academy
Kingsville, ON, Canada
"After decades spent working int he beauty industry, I've been blessed with fab gifts for various occasions and celebrations. Here's my Top 10 List:
1o. Delicious home-baked treats (My hubby loves this one!)

9. Wine and bottle holders

8. Handmade wreaths and dancing snowmen—so festive during the holidays

7. Grandbaby picture frames

6. Encouraging quotes and scripture verses

5. Beautiful plants for my garden

4. A gorgeous Trisha Romance print for my living room

3. Flowers in a hilarious vase that read, "Next Time, Duck," after I got hit with a hockey puck.

2. Braille cards from a long-time client who's blind and suffers from cerebral palsy, yet nevertheless manages to remain spectacular

1. Undeniably, the best gifts are the priceless friendships I've formed with all of my faithful clientele and peers.
Jill Wright, Owner, Jill's—A Place for Nails
Bowling Green, KY
"Many years ago, on a cold December Sunday, I received a Christmas gift basket filled with gourmet food items from my client, Suellen Long. I was broke and single at the time, living in Chicago without any family, and I never could have afforded the goodies for myself. She made a special trip just to deliver them at the salon, double-parking on busy Halsted Street for the sole purpose of perking up my holiday. I shared them with my roommate and we relished every bite. At a lonely time, her generosity let me know that someone truly cared.
Darlene Donovan, Nail technician, Nail Creations
Derry, NH
"I once had an elderly client named Jeanne who, over the years, became a very close friend. She'd lost a lot of people in her life, and I was one of the few confidants she had left. She'd even call me at home to chat about soap operas! The gift she gave me, which I'll treasure forever, was a decorative pillow that now sits on a chair in my home office."
Gino Trunzo, Director of education, Essie
New York, NY
"I've worked with many celebrities and, through word of mouth, secured numerous recommendations, so the best gift I ever got was that of referrals. You can't put a price tag on them. I've built great relationships based on my friendships with others, and for that I'll be forever thankful."
Evangelina Jenkins, Owner, Extraordinary Nails by Eva
Bellevue, NE
"Mary Sworab was a kind and loving client for years. She watched me evolve as a nail tech and always readily volunteered when I needed a model to test new techniques or trends. She brought cookies and Frappuccinos to every appointment so we could enjoy little treats together. One year, I opened up her Christmas card and found a $100 movie gift card. My family and I were so touched by her generosity. There was even enough left for us to see a second show!"
John Hauk, Nail technician, Bangs Salon & Spa
Centerville, OH
"One day, when driving home in the rain, I came across a young woman whose car had broken down by the side of the road. It turned out that she had a flat tire, but no carjack. I told her to get back inside the car and stay dry while I changed the tire for her. When finished, she asked for my name and number. The next day, I got a call from one of my clients. In a twist of small world fate, the woman I'd helped was actually my client's daughter! When she came for her next mani, she handed me a card with tickets fora  seven day Caribbean cruise for two. I was absolutely blown away."
Julie Kandalec, Celebrity manicurist & Creative Director, Paintbox
New York, NY
"While working at my old salon, Jenniffer & Co. in Ohio, I had a client named Liliana. She'd come see me several times a week for pedicures, retouches—she wore liquid-and-powder in a long almond shape—and polish changes. We had a special bond and stayed in touch after I moved to New York, even spending one Christmas together. In February, I learned the sad news that she passed. I knew I had to do her nails the way she loved them one last time: each a different color, adorned in Swarovski crystals. Having that opportunity was comforting and the best gift I've ever received."
Sarah Waite, Blogger at ChalkboardNails.com & Nail technician, The Spa at Camelback Village
Phoenix, AZ
"Vegetables were the best surprise to which I was ever treated. Completely out of the blue, my client Janet brought me a bag brimming with lettuce, carrots and herbs from her garden. As a foodie, I was thrilled, yet even more so touched by the sweet gesture. We often talk about our shared love of cooking. the fruits her harvest were tasty, but the best part was that she thought to bring them in the first place."
Vanessa Baltierras, Nail technician, Base Coat Nail Salon
Denver, CO
"Sometimes the best presents are also the most simple. One year, my long-time client, Katrina, gave me a homemade Christmas card. I teared up when I saw it because it was so cute and beautifully done. I still love it to this day."
Laura Merzetti, CND education ambassador & Owner, Scratch My Back Nail Studio
Ajax, ON, Canada
"My client Toni found me when she was getting married seven years ago, and since then I've taken care of her hands and feet. In her role as a corporate event planner for a major Canadian telecom company, she regularly gifts products to major customers. One two separate appointments she happened to have a brand-new iPhone in her car, and gave it to me for no reason other than wanting to be awesome! I had a Blackberry at the time, but I really wanted to switch, so it's still the phone I use today."
Tracylee Percival, Celebrity nail artist
New York, NY
"As a new business owner, I once received an invite from my client, Janet, to attend a networking event. She thought it might help expand my contact roster. I used to be quite shy so this was scary, but I forced myself to go Eventually, I emerged from my introverted shell, turning into a person who can now talk to large groups and polish the nails of celebrities, including Cate Blanchett and Cameron Diaz. It's fair to say that this gift, quite literally, changed the course of my career."
Pattie Yankee, Celebrity nail artist, Creator of Patricial Nail Lacquer & Owner, Pattie Yankee Manibar
New York, NY
"Rachael Ray, who's been a regular client for nearly six years, encouraged me to launch my own product line. For Christmas, she gave me an incredibly supportive gift: funds to cover PR services for three months. That provided the boost I needed to give my line a solid industry start."
Robert "Nail Guy" Nguyen, Color Club director of education & Co-owner, House of Polish
Beverly Hills, CA
"Peggy Vazquez was more than just a client; she's like my grandmother. I did her nails for nearly 10 years creating full-blown art every two weeks. When i went through troubled times, she provided emotional support. She even offered to send me to art school and pay full tuition. Although I ultimately didn't feel right accepting that full measure of her extraordinary generosity, she did take me to shows, buy my supplies and encourage me to dabble in different media. Because of Peggy, I've been able to showcase my work on canvases both small and large."
Loni Preato, Owner, DaLonnie's Hair and Nail Studio
Las Vegas, NV
"I was so excited to be honored with a special present from Cindy Mitchum, my very kind and generous client. For my 10-year wedding anniversary, she treated me and my husband to a special night out: dinner, followed by VIP Champagne Circle seating at the hit show Le Rêve. The experience was unforgettable."
Jeffi Girgenti, Owner, The Nail Cafe
Woodland Hills, CA
"This year, for my 50th birthday, my client and close friend, Jennifer Rubin, flew us and four other pals to her penthouse condo on the beach in Cabo San Lucas, Mexico—and then we came home first class. I have so many great pictures form that trip, which remind me of my wonderful, loving and generous friend."
Annette Calvillo-Leubke, Owner, Fill 413 Nail Studio
Waukesha, WI
"When I opened my nail studio in 2014, Kris was one of the first clients to walk through my door. She soon became a regular, and I even created a service in her honor: a paraffin wax treatment on feet with a 15-minute massage using she butter and essential oils. Kris knows how much I love crosses; I wear this shape in some form every day. To celebrate our friendship, she gifted me stunning sterling silver Native American amethyst and citrine cross-shaped earrings that once belonged to her mother. They're a precious reminder of the many blessings I've received in my work."
Marc Barr, Nail technician, Above All Grand Salon & Spa
Wexford, PA
"I'm a huge baseball fan and I take my family to games as often as possible. Last year I turned 40, so one of my regular clients bought two dugout seats to watch the Pittsburgh Pirates play. My wife and I had a fantastic afternoon. It was a once-in-a-lifetime gift."
— Francesca Moisin
[Images: Getty Images/Nada Stankova Photography/Moment]