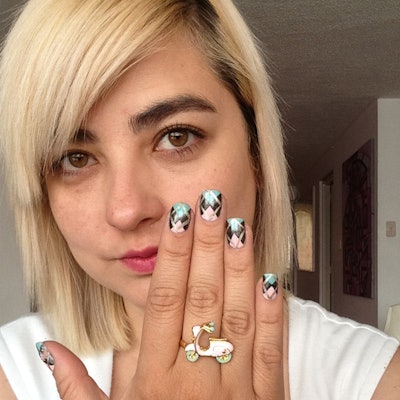 Some people are just natural born teachers – maybe that's why Colombian nail artist Heidy Aristizabal known as "H la Cosedora" has made it her mission to earn the Guinness World Record for the Largest Nail Art Lesson in history.
The event is scheduled to take place on May 16, 2015 in Bogota, where she'll have 500 participants on site. The event is completely free and each attendee will score a free nail art kit (4 polishes from brand Maxybelt, a dotting tool, brush, and nail art crystals from Prestige & Crystals). She will be teaching four techniques: gradient with a sponge, dotting, hand painting, and applying gems.
All money received in donations from the day will be going to the Tulipan Foundation, which supports those who have lost family members in the poor areas of Bogota.
Heidy began as a painter by trade – and ended up painting nails as a hobby for her friends so much that she decided to make that her day job. Now she trains other nail artists in salons and for various brands, and even shares some of her skills on her Youtube channel.
The whole event on May 16th will actually be streamed live over her Youtube channel, which you'll find right here: https://www.youtube.com/channel/UCdDtzD1aCYOck7UrCdwIXOQ?sub_confirmation=1
[Image: Heidy Aristizabal]