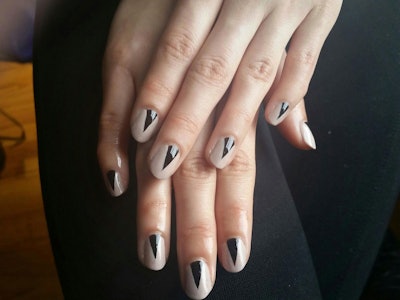 Elaine Watson of Cuccio Color along with Marilyn Garcia and celebrity manicurist Gina Eppolito created the nail art for the Jordan Louis show this New York Fashion Week. Coordinating with designer Kimberly Sherer, Watson ensured that the designer's vision was brought to life with a nude and black design complimentary to the Fall/Winter 2015 collection.
Watson and her team used Cuccio 2 am in Hollywood to paint a sharp black triangle over the cuticle. Surrounding the triangle with Tel Aviv About It, Watson guaranteed that the triangle would really pop.
During the two-hour event, Watson and the rest of the team also provided the guests with manicures.

[Images: Cuccio]