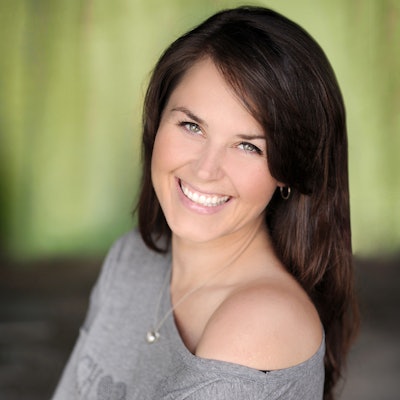 Get to know celebrity nail artist Kimmie Kyees in our interview with her below!
Us: What was your first job?
Kyees: I worked at Ticketmaster selling concert tickets, then later as an usher in all the major concert halls in my hometown of Columbus, Ohio. It's ironic that I now work backstage with so many musicians.
        
Who would you like to work with?  
Dolly Parton or Cher. I also want to do Garth Brooks' nails. I met him once and he told me he puts a gel on his thumb nail so he can play guitar without tearing up his own nail.
Me and Garth Brooks, my favorite musician of all time!
What inspires you?
Everything! Colors, textures, fashion and other manicurists via Instagram, Twitter and YouTube.  
 
What was your proudest accomplishment?
Buying my own home. And seeing my name printed in magazines was pretty exciting, too.
 
What is favorite type of music?
I love pop music, oldies and 80's music.
 
Describe your perfect day…
Spending the day hiking or doing anything active with my boyfriend, sister and dog, Lola. Plus, good food and a movie.
My Labrador, Lola, who often has painted nails!
What is your favorite sport?
Volleyball. I love to play at the beach or in the pool. I have even played in mud volleyball tournaments!
Are you a morning or night person?
A night person. I stay up super late all the time, often polishing nail tips trying new designs or organizing my kit and my nail room.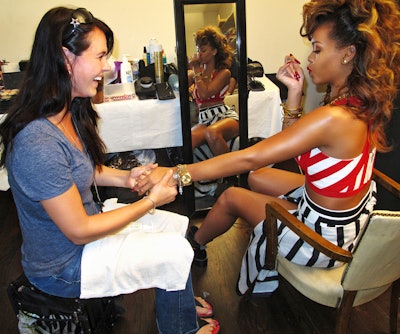 Kyees doing Rihanna's nails
What's your favorite movie?  
Grease. I love to sing along.
What is your most treasured possession?
My laptop because it keeps me so connected and organized. Plus, it houses my other favorite possession, photos!  
 
What is your favorite food?
Ice cream and chocolate.
 
Describe the best set of nails you've ever seen…
At a nail show, there was a Russian woman sculpting 3-D nails into fairies and forests using acrylic.
 
What are you most afraid of?
Getting older, because it means my parents are getting older, too.
 
I can't discuss nails without…
My mind racing with colors and ideas!
What was your childhood ambition?  
I wanted to be a lawyer until I realized how much school was involved.
What was your most recent impulse buy?  
A bike rack for my car.
[Images: Kimmie Kyees]