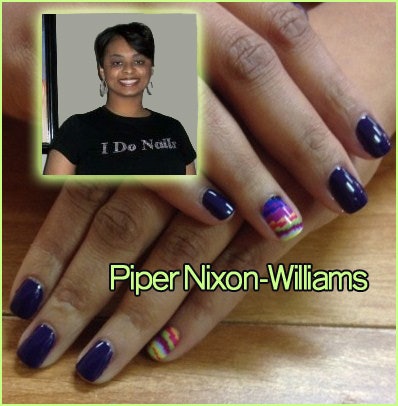 Welcome to NAILPRO's Nailed Down! where we "nail down" nail artists and technicians from our User Galleries and get to know them and their amazing work!
This week we visit Chicago, Illinois!
Meet Piper Nixon-Williams:
Where do you work?
I am the owner of Polish'D.
How would you describe yourself?
Reliable, honest and a great friend.
How did you get started in the nail industry?
I was 16 when I started doing nails as a hobby then in college to make money. I was told that I had a talent and became certified in '94 but didn't take it seriously until 2008.
What/Who inspires your work?
Not one thing inspires my work. I just love a natural nail but my daughter inspires me to continue.
Are there any tools you can't live without?
LED/UV lamp, cuticle pusher and nippers.
What is your favorite technique/style?
No-Chip.
What tip can you offer other nail technicians?
Education is the key. You have to believe in yourself and never give up.
Anything else you'd like to add?
Beauty comes from the inside out.
You can find Piper Nixon-Williams on the web:
In the NAILPRO User Gallery: Nails By Piper
Facebook: Piper Nixon
Instagram: @nailtek75
Click here for more Nailed Down! interviews »
Would you like to be featured in NAILED DOWN? Post images of your nail art to our User Gallery. We'll be highlighting outstanding artists based on those submissions! (minimum six pictures to qualify for consideration) NAILPRO reserves the right to edit submissions for length, grammar and clarity.