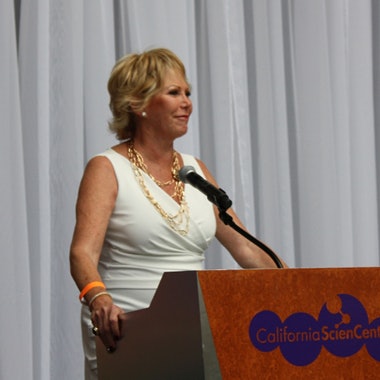 The Beauty Bus (beautybus.org) held its 5th annual Beauty Drive on Sunday, April 27 at the California Science Center's Wallis Annenberg Building in Los Angeles. This year the organization, which provides complimentary beauty services to terminally ill people and their caregivers, honored Lifetime Achievement Award recipient Deborah Carver, Publisher and CEO of Creative Age Publications, which produces Nailpro, in addition to six sister magazines and the hairstyle inspiration books, Inspire. Carver was presented the honor for her company's ongoing support of the charitable organization, which in five years has provided 4,300 services to more than 3,000 people and donated 15,000-plus Bags of Beauty to those in need.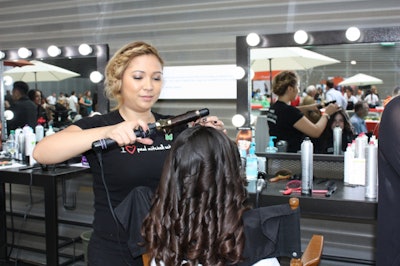 The Beauty Drive offered complimentary beauty treatments to showcase the services they provide to terminally ill people and their caregivers
Ronda Wilkin, Beauty Bus' new CEO, choking up with emotion several times, explained the Beauty Bus' core programs, which include: caring for terminally ill people and their caregivers; hosting pop-up salons to raise awareness and funds; and donating Bags of Beauty to those touched by the organization. An avid tennis player, Wilkin then introduced Carver, herself a tennis player: "In tennis, 'love' means nothing, but in life it means everything."
After detailing how impressed she was with the Beauty Bus when the nonprofit started five years ago, Carver talked about how beauty has affected her personally and how important it is: "Beauty and the beauty industry does make a difference in the quality of life for the terminally and chronically ill and their caregivers," said Deborah Carver. "I've witnessed how the Beauty Bus Foundation improves the welfare and psychological well-being of those in need, and I am honored to support such a worthwile fundraising event."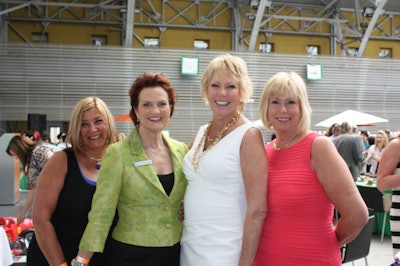 Paul Mitchell's Kristin Firrell, former Lifetime Achievement Award recipient Ann Mincey, Publisher Deborah Carver, Nailpro Competitions Director Jewell Cunningham
Also on hand at the event were past honorees Redken's Ann Mincey, Hollywood Hair Guy Dean Banowetz and NYX Cosmetics' Toni K., not to mention industry leaders including Intercoiffure President Lois Christie, Mary Wilson, Malibu C's Deb Porter, among others. The event held a silent auction to raise money as well as a live donation portion, during which more than $20,000 was raised—much-needed funds as it takes an estimated $50,000 to perform 200 home visits.
Wendy Levine, Co-Founder, spoke about the Beauty Bus' humble beginnings. The charitible organization started after Levine's younger sister Melissa received in-home beauty treatments as she was battling a terminal illness. "Melissa told me how it made her feel normal," Levine said, and after Melissa passed away, Levine and her cousin Alicia Liotta started Beauty Bus. The first year, Levine says, only 11 clients received beauty services; now, thousands of people are receiving services, including Joan DePriest, who is a caregiver for her husband of 55 years, Herb. "It's like a party when the Beauty Bus arrives," DePriest smiled. "And as the Beauty Bus departs, a beauty professional never fails to say, 'Thank you for allowing me to help you today.' This to me personifies the Beauty Bus."
Get to know Carver and Beauty Bus a little better in the video below.