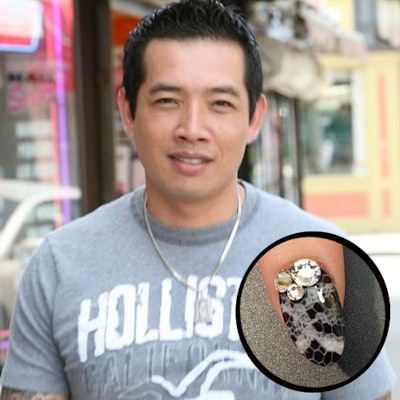 All Phuong Luu had to do was begin posting his work on Instagram as "thenailboss." Now he's a widely known nail artist with 72,000 followers and thousands of imitators. Reputable salons look to his polished work for inspiration, and women clamor to see him. While the New Jersey-based tech isn't accepting new clients, we too were still dying to get to know him and his techniques better. Read through our talk with him below for tips, tricks, and further insight.
Us: How many clients do you take a week, on average?
Luu: Anywhere between 35-45.
When did you notice your Instagram account was becoming very popular?
I noticed when my clients would tell me that they were at the mall and the sales clerk would ask to see her nails, and after showing the clerk she would say, "Let me guess…'thenailboss' from Instagram?" It's always flattering. I'm grateful.?
What brands and products do you use?
For a crystal clear glass look, I cap with OPI Absolutely Clear Acrylic. With colored acrylics and glitters, it all depends. Every product works and looks different, but I tend to use ONS, CND, OPI, Nailite, Young Nails, and Tammy Taylor.
Do you ever mix different brands of acrylic liquid and powders?
Yes I do, but I use only CND Retention+. It seems to give the best outcome, bonds really well, and creates no yellowing.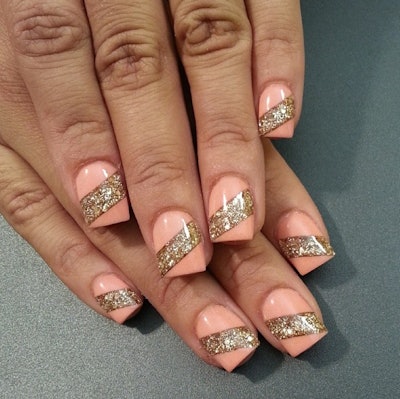 How do you get such crisp lines in your nail art?
I use anything from fishing line to a French cutter…whatever it takes for a perfect nail!
How do you get such crisp lines in the square shape of your nails?
Well, I cut the shape out, then come back with a hand file to make the lines nice and sharp.
What's your mix ratio for acrylic liquid to powder?
That all depends on the length and width of the clients' nails. After time, knowing how much becomes second nature.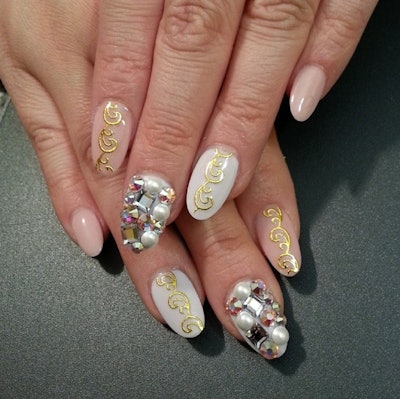 How do you decide on a nail shape? Does the client pick or do they leave it up to you?
At the end of the day, though I may voice my opinion, it's up to the clients. But for the most part, they tend to listen to my voice!
What do you use to attach rhinestones to nails? Nail glue or top coats? What brand?
I get the best results from using any regular nail glue, which I apply with a dotting tool. The key is to spray the rhinestones with a glue drying accelerator after all the rhinestones are in place.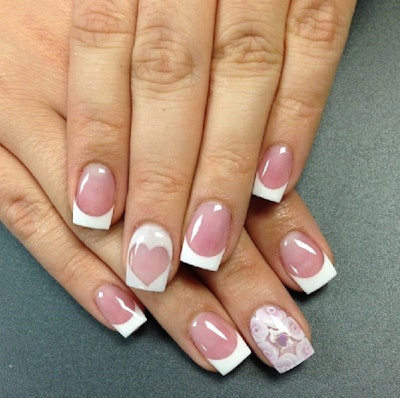 How do you get perfect smile lines?
I use a French cutter, but again, the key is to go back and hand file the smile line before applying the white.?
Do you add a clear coat over the color before filing?
Yes, I use OPI Axxium top gel. It's non-cleansing.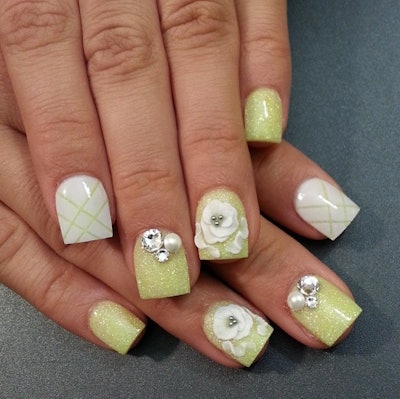 What do you see yourself doing next? Do you have plans to become an Educator?
My clients are going to kill me when see this, but yes, I'm leaning towards being an Educator.
Do you have any nail art tips/tricks you can share with us? What are they?
Less is always more. Keep it clean and classy. Perfect the shape, and never let anyone tell you that you can't! And finally, never try to be better then anyone else, just try to be better than yourself everyday.?
Check out his Instagram for yourself: @thenailboss
[Images: Phuong Luu, Instagram @thenailboss]