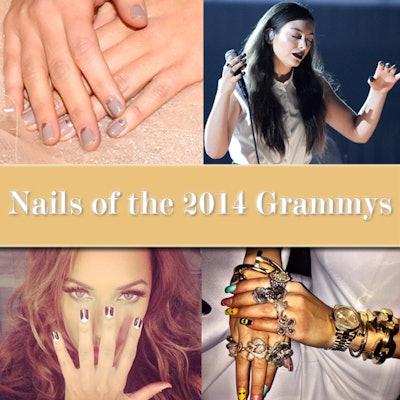 From Ringo Starr to Taylor Swift, all of music's most famed names gathered in Los Angeles to attend (and perform in) the 2014 Grammys. Alongside the incredible vocals, we saw gorgeous gowns and of course – noteworthy nails! Check out all the manicures you may have missed.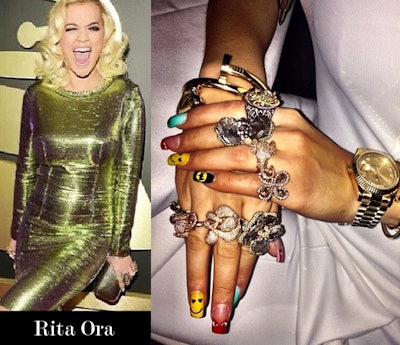 Rita Ora has been known to try bold and playful nail art, so we were not shocked when we saw she rocked the busiest manicure of the night—complete with mustaches, evil eyes, smiley faces, and of course, Batman.
[Images: Instagram @ritaora]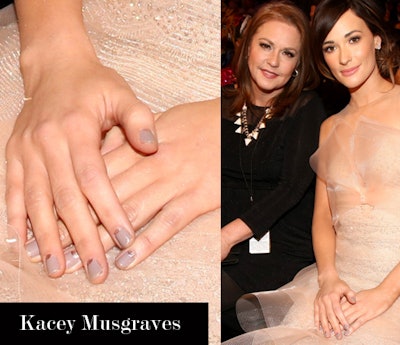 Country artist Kacey Musgraves had her nails done by celebrity manicurist Kimmie Kyees, who gave the singer a feminine lavender pastel (Essie Warm and Toasty Turtleneck) with shiny metallic moons (Essie Good As Gold).
[Image: Getty]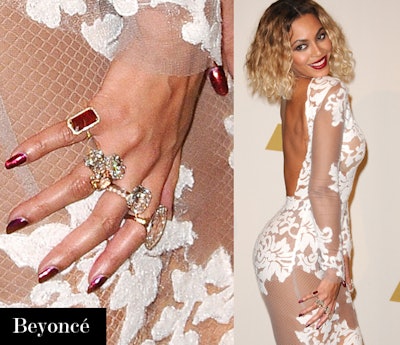 Beyoncé dominated the red carpet with a lacey see-through dress and sultry blood red accessories, including her Lisa Logan manicure. Her talons were painted using one coat of Formula X New Classics Pedal To The Metal (a purple metallic), followed by a coat of Formula X Lusters in Atom + Eve, a ruby red shimmer.
[Image: Getty/Film Magic]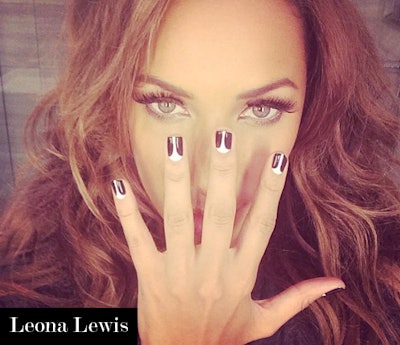 Leona Lewis spiced up two otherwise simple colors with a touch of nail art, courtesy of Kimmie Kyees using the Red Carpet Manicure LED gel system. The look was done by first applying two coats of White Hot, dividing the nail into three sections with a striper brush, and then filling in the sides with Black Stretch Limo.
[Image: Instagram @kimmiekyees]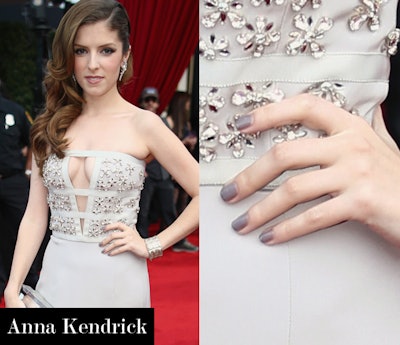 Manicurist Lisa Postma gave Anna Kendrick a glamorous silver mani using two shades of Essie: the soft gray Chinchilly and sparkly Ignite The Night from the dynamic Encrusted Collection.
[Image: Getty]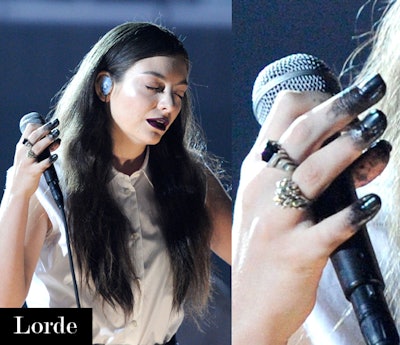 We initially weren't sure what to make of Lorde's black dipped-in-ink nails at the Grammys. Is it paint? Is it henna? One thing is for sure: they aren't the expected pink, glittery tips so many other celebs wore. But Lorde didn't get to be a Grammy award winner at age seventeen by doing what everyone else is. She did, however, have "normal" cleaned up tips by the time she collected her two awards.
[Image: Getty]