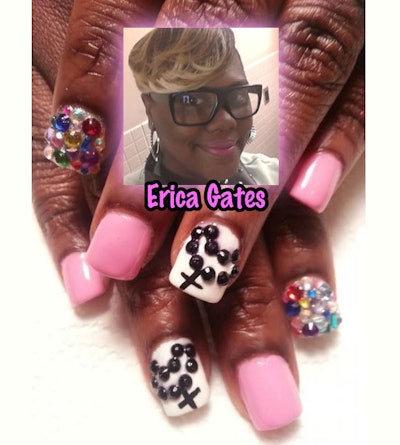 Welcome to NAILPRO's NAILED DOWN where we "nail down" the details of selected nail design artists from our User Galleries.
This week we visit Jackson, Mississippi!
Meet Erica Gates:
Where do you work?
I am the owner of Beyond Stripes Salon.
How would you describe yourself?
I am carefree and funny, and it shows in my work. I like to have fun and create custom work on each of my clients.
Tell us about how you got started in the nail industry.
My aunt did my nails when I was in middle school and I would always sit around her shop and help her out. I was something like an apprentice. In order to get my nails done for free, I had to do things in her shop. I think from that point my interest was piqued.
What/Who inspires your work?
I am from Mississippi, and there really aren't a lot of nail techs who do the type of work that I do, so sometimes I look to nail techs from other states to give me inspiration. Mississippi is very slow and a bit behind on trends, so looking at what other states are doing helps me to stay current with the nail trends.
Do you have any tool(s) you can't live without?
I absolutely love sticky base coat by Orly.
Do you have a favorite technique or style?
I am known as the bling queen, so therefore my favorite style would be junk nails.
What is your funniest/craziest nail story?
When I was in high school, I took a typing class and I kept failing all of the tests because of my long nails. My teacher told me that in order to pass, I had to cut my nails. She told me that when I grow up, I can do whatever I wanted with my nails. I cut my nails and got an A, and have been wearing long blinged out nails ever since!
What tip can you offer to other nail technicians?
Practice, Practice, Practice!
Anything else you'd like to add?
If you hold your head down, you don't know where you're going. If you hold your head up, you won't know how far you can go. Anything is possible, just stay focused and look ahead. 🙂
You can find Erica Gates on the web:
In the NAILPRO User Gallery:Mississippi Nail Artist Erica
Facebook: Beyond Stripes
Instagram: @erica_gates_nailtech
Click here for more Nailed Down! interviews »
Would you like to be featured in NAILED DOWN? Post images of your nail art to our User Gallery. We'll be highlighting outstanding artists based on those submissions! (minimum six pictures to qualify for consideration) NAILPRO reserves the right to edit submissions for length, grammar and clarity.