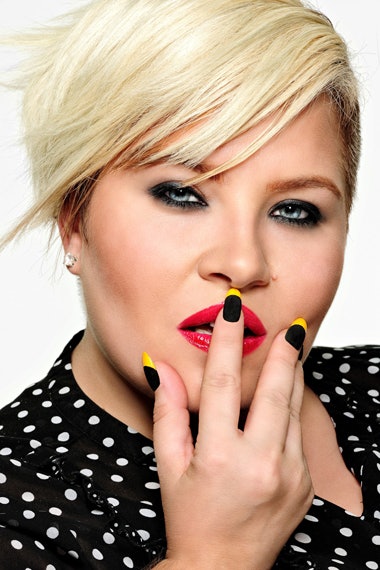 WE TV's original reality series L.A. Hair has pumped up the drama and excitement in season two by introducing nail artist extraordinaire Naja Rickette to the cast!
L.A. Hair's first season featured hairstylist Kim Kimble and her colorful team as they created glamorous and unique looks for Hollywood's A-list.  This season, the savvy and sassy Naja Rickette, a veteran of the nail industry with a star-studded client list including Lady Gaga, Katy Perry, Fergie, Mariah Carey and Pink joins the team to add professional nail services to the menu.
"When Kim first mentioned that her producers were looking for a nail stylist to add to her show, I was not interested in applying," admitted Naja.  "Then, I started to think about what a great opportunity it would be elevate the public's awareness of nail fashion, and to showcase what stunning styles a nail artist can create."  While Naja admits she was initially worried about how she would portrayed on the show after the editing process, "I realized the show is entertainment first, but while people are watching the drama they will also learn about the nail profession, and that's my primary goal.
Naja also confided that although LA Hair is a reality show, specific products cannot be mentioned on camera. "It's also true that even though there are cameras, cords, wires and hot lights, you really do begin to ignore the cameras and forget there is a crew in the background," Naja admitted. "And, I was also surprised by how many hours you have to put into being on the show.  It's like having a second full-time job!" she asserted.    
This season of LA Hair premiered on Thursday, June 6, 2013 at 10:00 pm EST on WE TV, and will air every Thursday thereafter at 9:00 pm EST until the final episode of the season on August 22, 2013.
You can also find out more about the exciting world of Naja on her Web site,   NajaNailGuru.com.