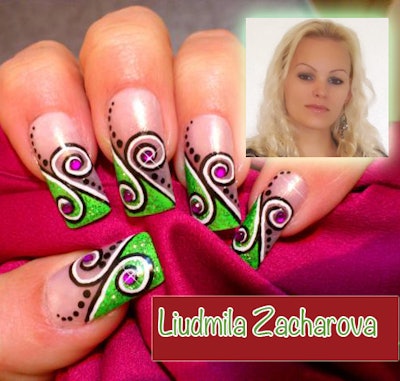 Welcome to NAILPRO's NAILED DOWN where we "nail down" the details of selected nail design artists from our User Galleries.
This week we go around the globe to Spain!
Meet Liudmila Zacharova:
Where do you live?
I'm originally from Lithuania, but I have lived in Spain for 5 years now, in a small town called Pilar de la Horadada. (Costa Blanca)
Where do you work?
I'm a freelance nail art designer. I don't work anywhere at the moment. I'm a stay at home mum of 2 little girls. 🙂 Mostly I do video tutorials and feature them on my YouTube channel.
How would you describe yourself?
I'm an open-minded, friendly, knowledge seeking and very creative person, with many different interests. A typical Aquarius! 🙂
Tell us about how you got started in the nail industry.
Originally it began as a hobby. It later grew into something that I was able to do to earn a bit of extra cash whilst still taking care of my children. So that's how I started. Later on I also began my own YouTube channel where I could share my design ideas with others.
What/Who inspires your work?
Initially my main inspiration is the colour of nail polish I see. From there the designs just seem to materialize. However, during "special" times, such as Valentine's Day or Christmas, I follow the theme and base my designs around the traditions adding my own little twist.
Other things that can give me inspiration are: tattoos, shoes, the latest fashion trends and even dreams!!
Are there any tool(s) you can't live without?
Thin long brushes!! Dotting tool is quite useful, too, as I do many abstract designs. 🙂
What is your favorite technique/style?
My favourite technique is water marbling and my favourite styles are "black and white" and "abstract."
What tip can you offer to other nail technicians?
My best tip would be to use a cream to protect the fingers instead of sello-tape when doing water marble designs! So much easier to remove the excess polish from your fingers by wiping it off with a cotton bud. I feel it gives your fingers more flexibility when you dip it in the water.
Anything else you'd like to add?
I want to progress as an artist, displaying how I have grown as a person, learning from the mistakes that I have made and developing artistically throughout my career.
You can find Liudmila Zacharova on the web:
In the NAILPRO User Gallery: MyDesigns4You Nail Art and Designs
YouTube: Nail Art by MyDesigns4You
Website: www.mydesigns4you.hostei.com
Facebook: Liudmila Zacharova
Twitter: @MyDesigns4You
Pinterest: Liudmila Zacharova
Click here for more Nailed Down! interviews »
Would you like to be featured in NAILED DOWN? Post images of your nail art to our User Gallery. We'll be highlighting outstanding artists based on those submissions! (minimum six pictures to qualify for consideration) NAILPRO reserves the right to edit submissions for length, grammar and clarity.