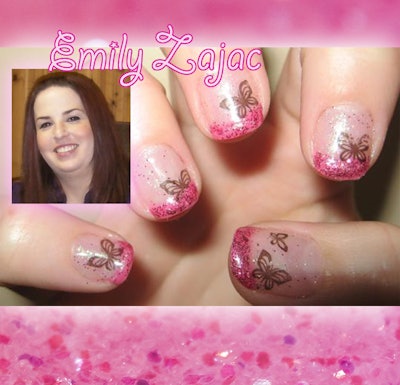 Welcome to NAILPRO's NAILED DOWN where we "nail down" the details of selected nail design artists from our User Galleries.
This week we visit Kitchener Ontario, Canada!
Meet Emily Zajac:
Where do you work?
Em & Lo's Nail Artistry – I'm a mobile nail tech and owner of the business.
How would you describe yourself?
I'm a passionate and dedicated person. I thrive on creativity and love a challenge!
Tell us about how you got started in the nail industry.
I had taken a business course at a local college and soon realized that the business world was not for me. I quickly enrolled in an esthetics course. I started out wanting to focus on skin care but as my training progressed, I quickly fell in love with all things nails and have never looked back.
What/Who inspires your work?
Other techs from all over the world inspire my work. I troll Pinterest constantly for inspiration and I especially adore and look up to Holly L. Schippers, aka "The Fingernail Fixer." She is a CND Education Embassador and is so selfless with her time and knowledge to all techs wanting to learn!
Are there any tool(s) you can't live without?
My professional beauty trolly. As a mobile tech it's my life and holds my entire world!
Do you have a favorite technique or style?
Rockstar nails. You can make any day better with a little glitter!
What is your craziest/funniest nail story?
My daughter. She is totally captivated by my hands any time I do my nails. She will sit and look at them forever and comment on how much she loves how pretty and sparkly they are!
What tip can you offer to other nail technicians?
Always be prepared to learn. This industry changes in a millisecond and there are always new techniques and products coming out. Success will come from a passion to learn all you can and soak it in.
You can find Emily Zajac on the web:
In the NAILPRO User Gallery: Em & Lo's Nail Artistry
Website:emlosnailartistry.yolasite.com
Facebook: Em & Lo's Nail Artisty
Pinterest: Em & Lo's Nail Artistry ~ Emily Zajac
Click here for more Nailed Down! interviews »
Would you like to be featured in NAILED DOWN? Post images of your nail art to our User Gallery. We'll be highlighting outstanding artists based on those submissions! (minimum six pictures to qualify for consideration) NAILPRO reserves the right to edit submissions for length, grammar and clarity.