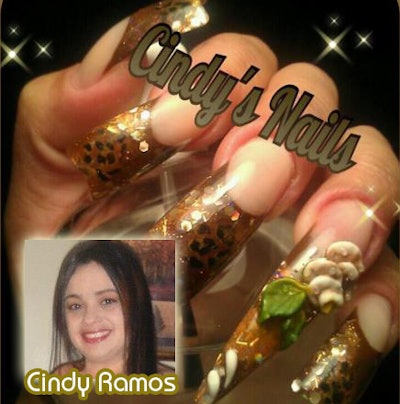 Welcome to NAILPRO's NAILED DOWN where we "nail down" the details of selected nail design artists from our User Galleries.
This week we visit Waterbury, Connecticut.
Meet Cindy Ramos:
Where do you work?
I work at home, but in the future I am planning to open my own nail salon.
How would you describe yourself?
I am a people person. I love to work with people and give them what they want. If they want beautiful nails, then I give them beautiful nails! I love to see my clients leave my house happy 🙂
Tell us about how you got started in the nail industry.
I started when I was 18, and now I'm 35 and I still love it. Maybe even more than when I started. Recently I started to go to the seminars and I love them!
What/Who inspires your work?
What inspires me to work is myself because I started practicing on my own. No school or anything. Little by little I started practicing and making myself do better. Every day I set goals for myself. When I didn't know how to do something, I worked hard to learn it.
Do you have a favorite technique or style?
Reverse technique. I love it!
What tip can you offer to other nail technicians?
Practice makes better. Don't let anyone say you can't because nothing is impossible. You just have to set your goals and believe in yourself. You can do it!!
You can find Cindy Ramos on the web:
In the NAILPRO User Gallery: Cindy's Nails
Facebook: Cindy's Nails and Designs
Click here for more Nailed Down! interviews »
Would you like to be featured in NAILED DOWN? Post images of your nail art to our User Gallery. We'll be highlighting outstanding artists based on those submissions! (minimum six pictures to qualify for consideration) NAILPRO reserves the right to edit submissions for length, grammar and clarity.