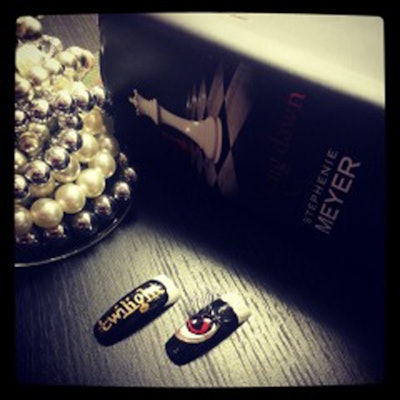 These Twilight Saga inspired nail design products are perfect for the release of Breaking Dawn – Part 2. Whether your clients are on Team Edward or Team Jacob, they will be watching in style with these vampire tested, werewolf approved nail polishes.
Twilight Beauty offers the Nox Twilight line, a collection of 12 shades inspired by the Cullen coven. The collection features the Cullen crest on the center of each bottle. Check it out HERE!
Essence launched a makeup collection that includes four enchanting nail polish shades to go with Breaking Dawn – Part 2. These shimmery shades will be catching eyes. Check out the collection HERE!
Twilight's vampires glitter and sparkle in the sunlight. China Glaze's holiday collection has the glittery polishes just right for the Breaking Dawn fan's holiday celebrations with shades like Glitter All The Way and Glistening Snow. Check out the shades HERE!
We want to see your Twilight nail art! Share your designs in our Nail Art Galleries!