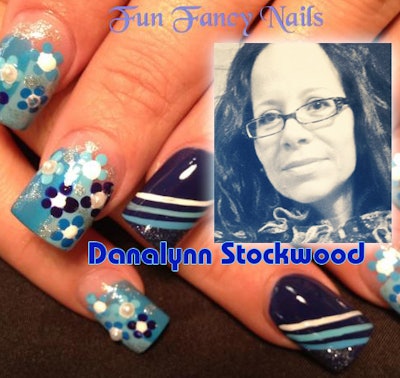 Welcome to NAILPRO's NAILED DOWN where we "nail down" the details of selected nail design artists from our User Galleries.
This week we visit Massachusetts.
Meet Danalynn Stockwood:
Where do you work?
Genesis Salon
How would you describe yourself?
I am artistic, creative, determined, persistent and passionate about my work.
Tell us about how you got started in the nail industry.
Ever since I was young, I loved doing my nails! I used to cut tape into the shape of nails and stick them to my natural nail and paint them! I had my own nail box…first with polishes and necessary nail tools. As I got older I added drugstore acrylic kits and nail art accessories. I came to the realization being a nail technician was my passion!
What/Who inspires your work?
I have several inspirations! First, my family. They give me the faith to believe in my talent. Second, my clients inspire me. They come in with ideas and I try my best to produce their ideas on their nails. My other inspirations are Patty Yankee, Elle, Robin Moses, You Tube, Nail Talk Radio, my fans on Facebook and of course Nailpro Magazine!!
Are there any tool(s) you can't live without? Acrylic brush, stripper brush, dotting tool, acrylic paints and polishes!
Do you have a favorite technique or style?
I love doing abstract art, free hand artwork and bling nails!
What tip can you offer to other nail technicians?
PRACTICE! PRACTICE! PRACTICE! I remember giving away free sets of enhancements in the beginning to get the practice in. Yes, it would take me anywhere from 2-3 hours to do a full set! However, over time, my speed improved without compromising the quality of my work.
Anything else you'd like to add?
Be a mentor! There are new nail techs out there craving for the knowledge and know-how, information and techniques. I remember how excited I was when I first started. When I mentor, the passion roars all over again!
You can find Danalynn Stockwood on the web:
In the NAILPRO User Gallery: Fun Fancy Nails "My Creations"
Facebook: FunFancy Nails
Pinterest: FunFancy Nails
Twitter: Danalynn @FunFancyNails
Website: www.funfancynails.weebly.com
Instagram: FunFancy Nails
Tumblr: FunFancy Nails
Click here for more Nailed Down! interviews »
Would you like to be featured in NAILED DOWN? Post images of your nail art to our User Gallery. We'll be highlighting outstanding artists based on those submissions! (minimum six pictures to qualify for consideration) NAILPRO reserves the right to edit submissions for length, grammar and clarity.