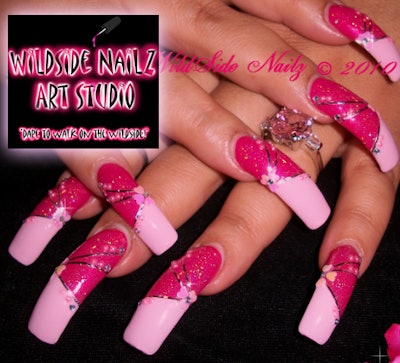 Welcome to NAILPRO's NAILED DOWN where we "nail down" the details of selected nail design artists from our User Galleries.
This week we visit Southern California's Antelope Valley.
Meet Patrice "Tracie" McNeal:
Where do you work?
I am the owner of WildSide Nailz.
How would you describe yourself?
Dedicated, compassionate, intelligent, easy going, funny, and regrettably, a bit of a perfectionist.
Tell us about how you got started in the nail industry.
I was 12 years old when I sat beside my mom getting her first set of acrylics. My eyes were glued to the process, and I was in awe of the results. I knew then and there that learning how to do that was all I was ever going to want out of life. Immediately after, I nagged my mom into getting me a cheap acrylic nail kit from the grocery store. Thirty-two years later, here I am. Though, I don't purchase my products from the grocery store anymore.
What/Who inspires your work?
I actually think it's the industry itself that inspires me. The constant advancement of products, techniques, tools and implements, methods and the latest trends (albeit flighty) in nail art inspire me to stay sharp and at the top of my game.
Are there any tool(s) you can't live without?
My #10 acrylic brush, my #4 sculptor for 3-D acrylic nail art and my cuticle pusher. Definitely!
Do you have a favorite technique or style?
Acrylic inlaid designs and 3-D acrylic nail art seem to be my forte. That works out perfectly for me because they happen to be my two favorite techniques.
What is your craziest/funniest nail story?
This one is for the cutest ever category. It was during the hype of a particular blockbuster movie release that I was in line at the grocery store. I noticed the lady behind me and her 10 year-old grandson were watching me meticulously as I loaded groceries onto the conveyor belt. I knew she was going to ask about my stilettos. And she did, a dozen or more questions at least, while her grandson looked on in an entirely different kind of amazement. Despite the comic book character on his shirt, I knew what he was really seeing. The look on the lady's face was unforgettable. Enamored by the glam, the length, the unusual shape, the intricate detail of the nail art… she confessed she had never seen anything like it. As I moved forward in line, thanking her for all the kind compliments, her grandson spoke up with his own questions. "Can they hurt you?" he asked. I replied by having him hold out his hand and lightly pressed the tips of my stilettos to his palm. His eyes widened at the surprising sharpness, while we both smiled at each other and shared a look. I paid for my groceries, and turned to leave as his grandmother stepped up to the register. I really thought the little boy was going to make the comparison, but I think he felt embarrassed to say anything. I knew I had to save him from his own regret. Quickly, I turned back and bent to whisper in his ear: "I'm the real Wolverine." I winked, and walked away. Looking back over my shoulder, the silent ear-to-ear grin that lit up his face was priceless! And one I'll never forget.
What tip can you offer to other nail technicians?
Stay sharp and keep up. Master at least one thing, but learn everything. That's the best advice I could give anyone and the only way to stay ahead in this ever-evolving industry.
Anything else you'd like to add?
Well… apart from being a Nail Technician and Nail Artist, I'm also a writer and recently published (digitally) my first fantasy novel—"Feyling Duplicity." And although I'm seeking representation for my book, I still feel truly blessed having achieved two entirely different dreams in one lifetime. "Feyling Duplicity" for Kindle thru Amazon
You can find Tracie McNeal aka "LadyNailz" on the web:
In the NAILPRO User Gallery: WildSide Nailz
Facebook: WildSide Nailz
YouTube: LadyNailz
Amazon: Tracie's novel, "Feyling Duplicity" for Kindle
Click here for more Nailed Down! interviews »
Would you like to be featured in NAILED DOWN? Post images of your nail art to our User Gallery. We'll be highlighting outstanding artists based on those submissions! (minimum six pictures to qualify for consideration) NAILPRO reserves the right to edit submissions for length, grammar and clarity.