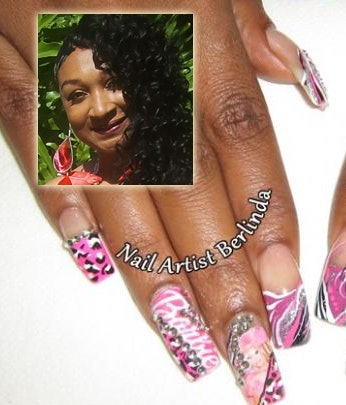 Welcome to NAILPRO's "Nailed Down!" where we "nail down" the details of selected nail design artists from our User Galleries.
This week we visit Ft. Lauderdale, Florida.
Meet Berlinda Johnson:
Where do you work?
I am the owner of Divanized Hair and Nails in Ft. Lauderdale, Florida.
How would you describe yourself?
I consider myself to be very crafty, and I love art and colors. Everything I see makes me think it can be converted to nail art.
Tell us about how you got started in the nail industry.
I got started doing nails by mistake. I always doodled around with my nails and nail art, so one day someone approached me in a store checkout while I was shopping and asked who did my nails? I explained that I did my own. She asked me to give her an appointment. I explained, I don't do nails, but I will do yours the same way as mine, if you like. I only did wraps back then (1988). So, she came over, I did her nails using an organ stool as a manicuring table. Tips with wraps, designs and rhinestones. Three weeks later, she called for an appointment. Once again, I explained, girl I don't do nails, just come over and I will beautify your nails again. So, I did her nails again. Next thing you knew, her friends were calling for appointments. I became so busy, I thought to myself, I need to get my nails license. So, I enrolled in a manicurist course after work, 5 p.m. – 10 p.m., received my Manicurist License (1989, Michigan) and have been doing nails ever since. I forgot to mention, I was making double the money doing nails than what my employer at the time was paying me, so I quit my job after I became a licensed nail tech and started doing nails full-time.
What/Who inspires your work?
Actually no one inspires me, I just love colors, art and crafts.
Tool(s) you can't live without?
Acrylic paint, Paint brushes (Liner, Detailer, Dotter).
Favorite technique/style?
Abstract nail art, 3-D and decals.
What tip can you offer to other nail technicians?
Never sell your skill for cheap. If you start out charging cheap for your nail art, cheap people will come to you. Know your worth.
Anything else you'd like to add?
Copying someone else's nail art is okay, but add your own flair to it and make it your own personal brand.
You can find Berlinda Johnson on the web:
In the NAILPRO User Gallery: Nail Artist Berlinda Creations
Website: www.nailartistberlinda.com
Facebook: Nail Artist Berlinda
Berlinda helped celebrate Nailed Down's One Year Anniversary in August 2013!
Read the article here»
Click here for more Nailed Down! interviews »
Would you like to be featured in NAILED DOWN? Post images of your nail art to our User Gallery. We'll be highlighting outstanding artists based on those submissions! (minimum six pictures to qualify for consideration) NAILPRO reserves the right to edit submissions for length, grammar and clarity.