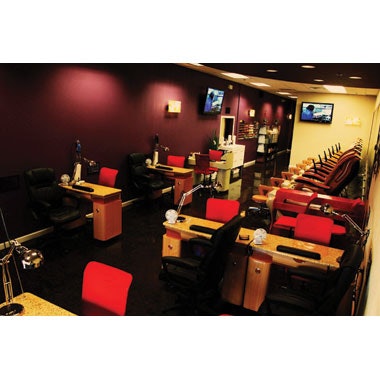 Nick and Jennie Brown take pride in their family-owned nail boutique and spa, where they believe in quality over quantity. Jennie's parents, siblings and cousins work alongside her and Nick to provide a luxury-lounge ambiance. The family effortlessly strikes a balance between knowing their clients well while treating them as VIP guests every time they come for a service. The 8-year-old salon moved its location two years ago to an affluent Detroit neighborhood, providing a distinct nail scene with a chic and modern feel. 
Year Founded: 2003
Owners: Nick and Jennie Brown   
Website: www.velvetnaillounge.com
Address/Phone: 1917 East Big Beaver Road, Troy, MI 48083; 248.528.2009
Hours: Mon.-Sat., 10 a.m.-7 p.m.; Sun., closed; open after-hours with reservation
Signature Treatment: Luxury Manicure and Pedicure: This extravagant service begins with safe and accurate prep followed by a complete anti-bacterial and anti-fungal treatment, exfoliation, a moisture mask, a sumptuous massage, a hot-towel wrap and perfectly polished nails. Hands and feet will look great and feel velvety smooth. 
Best Selling Products: Axxium soak-off gel from OPI Products and Gelish soak-off gel from Hand & Nail Harmony.
Related Stories: 20 Lounge • Isle PediSpa • Ki Nail Bar & Organic Spa • Studio One Salon & Spa • Richard Joseph SalonSpa • Sephora Nail Studio by XpresSpa • Elizabeth Arden Red Door Spas • Julep Nail Parlor • Le Posh Spa|Salon|Lounge • Bellacures • Lulu's by Travis Parker • Elizabeth Ashton Ayurvedic Nail Spa • MiniLuxe • New Brentwood Gardens Nail Salon • Beauty Box Salon & Nail Spa • COLOR a Salon by Michael Boychuck
---
Post your nail art in our Users' Nail Art Galleries » and share, vote or link from your own nail art blog! Don't miss our digital edition for step-by-step nail art » and check our website's nail art archives » for nail art you might've missed!
---