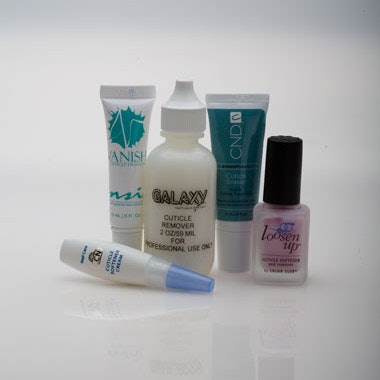 Cleanly removing the cuticle is what makes naked nails stand apart from the crowd. Cuticle treatments containing alpha-hydroxy acid help aid the removal of overgrowth in this area, making your job easier and safer. After application, push back the eponychium to expose the cuticle, and gently scrape the dead tissue from the nail plate.
LCN • 800.86.NAILS • Cuticle Softener Cream Soften cuticles with this blend of fruity alpha-hydroxy acids.
NSI • 800.354.6741 • Vanish Cuticle Dissolve Deep-penetrating moisturize is in effect with this alpha-hydroxy acid complex for exfoliating cuticles.
---
Post your nail art in our Users' Nail Art Galleries » and share, vote or link from your own nail art blog! Don't miss our  digital edition for step-by-step nail art » and check our website's nail art archives » for nail art you might've missed!
---
Galaxy Nails • 800.229.6245 • Cuticle Remover Apply this remover–with moisturizing lanolin–to help easily remove the dead skin around the cuticle area.
CND • 800.833.NAIL • Cuticle EraserA blend of alpha-hydroxy acids combines to moisture the nail plate and exfoliate cuticles.
Color Club • 800.221.8080 • Loosen Up Natural emollients make this formula nourishing while it gently loosens dead skin around the cuticles.