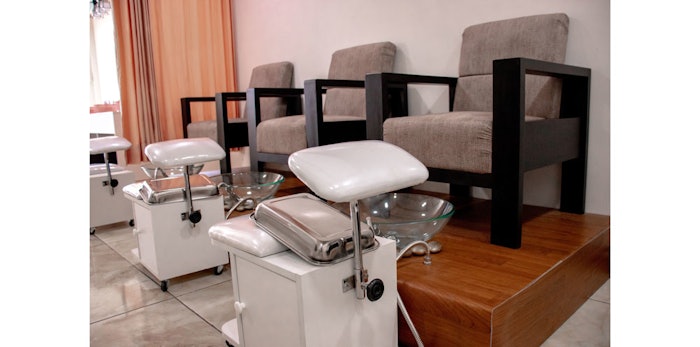 A strong focus on health and wellness is a crucial part of maintaining a nail salon. There are many ways you can make sure you are prioritizing the safety of your clients and staff in the salon. Amy Ling Lin,  sundays studio owner, details four ways you can make your studio space healthier for everyone.
Use nontoxic products. We breathe in toxic chemicals more than our clients because we are working in the studio for longer periods of time. For that reason, it is very important to protect yourself. 
Set up a proper ventilation system. We want to make sure there is fresh air circulating in and out of the salon; otherwise, chemicals will linger in the air. Some salon owners say they get used to the chemicals and cannot smell them. Please note that this doesn't mean the toxicity in the air does not affect your body. Over time, symptoms may show up as a headache, allergy, etc.
An andustrial autoclave is the ultimate way to sanitize mental tools. It kills bacteria. We deal with clients' bodily fluids when cutting cuticles, so it is important to keep your tools sanitized. You can transmit an infection to someone else or yourself if you touch uncleaned tools. Alcohol is not enough for cleaning your tools. If a $3,000 autoclave is too expensive, you can use a professional graded disinfectant. This is a multipurpose disinfectant, so you can dilute it to clean your pedicure bowl as well. Make sure you let your equipment sit for at least 15 minutes after disinfecting to ensure the item is fully clean and sanitized.
Wear disposable gloves when doing a pedicure. It is important to protect yourself when you work in the salon. Some microbes might not be visible to your eyes and will take some days to show symptoms of infection or illness. If you wear gloves, you make it less likely that you will be exposed to these microbes, especially during the pedicure. You should also disinfect the pedicure bowl for the same reason. You want to keep yourself and your clients safe.
About the Author
Amy Ling Lin is passionate about wellness and supporting fellow immigrants. She brings that mindset to sundays studio—her nail care brand focused on wellness, offering nontoxic product and mindful services in her New York studios in Nomad and Hudson Yards. After graduating from beauty school, she opened her first salon in 2012. With years of experience as a salon owner and an MBA from Columbia University under her beauty belt, part of Amy's mission is to disrupt the beauty salon industry, promoting all-natural beauty treatments and empowering women through mindfulness events in her studio. She is also a Nailpro 2022 advisory board member.