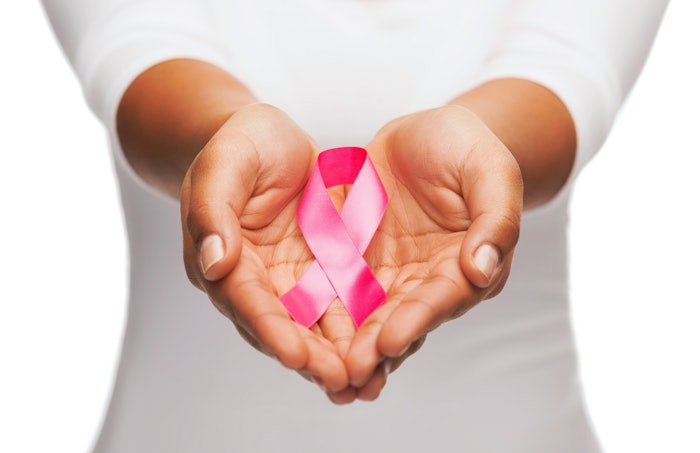 Dreamstime
Learn how to care for your clients' nails as they undergo chemotherapy from Holly Schippers.
A cancer diagnosis is a devastating, life-altering moment. Learning how cancer treatment can ravage your body is a subsequent shock. Individuals react differently to chemotherapy, and the nail client is no different. 
Every Nail Is an Individual
That being said, there are different reactions to chemotherapy when it comes to nails. They vary by the drug, the dosage, the individual receiving the treatment and other factors like genetics. Let us look at how and why chemo affects nails, what some of the changes could be and how to make changes in a service to better serve an oncology patient.
On average, most changes to nails will become apparent within two to three months of beginning the chemo treatment. Nails and toenails need a chance to grow out for some of the effects to be noticeable. The same is true at the completion of treatment; the nails will need to finish the growth cycle for the changes to return to normal, which can take several months. Some of the most common problems are brittleness, groves, discoloration and sensitivity.
Timing Is Everything
"Cancer is caused by a rapid division of fast-growing, abnormal cells. Chemotherapy is designed to disrupt the growth cycles of these cells but can also disrupt the normal function of other fast-growing cells, such as nail stem cells, to slow or completely stop the formation of new nail cells in the matrix," says Doug Schoon, Schoon Scientific. This disruption applies to the nails and toenails equally and is often revealed as Beau's lines. Many oncology patients can see a line for each chemo treatment on one or more nails. This is not unique to chemo, as they may have Beau's lines from surgery as well.
Ideally, nails should be kept short for the duration of chemotherapy treatments as a proactive measure. Onycholysis can be a side effect of some chemotherapy, and shorter nails are less likely to snag and lift during everyday activities. Shorter nails will also be easier to keep clean while the body is immunocompromised.
Service Accommodations
In a perfect world, a chemo patient would be able to walk into any salon of their choice, secure in the knowledge they will receive a safe service that will not jeopardize their delicate health. According to Jim McConnell, chemist for McConnell Labs, "Proper curing is always important for gel products and always should be in the forefront of a nail technician's mind. If product is under-cured on a client who is undergoing chemotherapy or radiation therapy, then the client may suffer a more severe nail allergic reaction to the under-cured materials. If the allergic reaction results in open sores, the client could then be exposed to a virus, which could result in an infection that would require a physician's treatment."
While Jim cautions that each of these circumstances are an "if" because of all the underlying variables, the simple statement is "proper curing is always important." An immunocompromised client would be touching all their skin with the nails that are potentially under-cured, in addition to the removal process where the dust will rest on their skin or the remover wraps will hold that product against the skin as it releases from the nail.
A pedicure is a wonderful way to feel better and can be just as much about grooming and self-care as it is about beauty. CJ Murray, advocate of Oncology Spa Solutions, cautions, "If a client is in active oncology treatment, do not soak for a pedicure." Similar to a diabetic client, the oncology client is more susceptible to infections. They can also develop neuropathy as a side effect of chemo, which would prevent them from accurately gauging the temperature of the water.
Expectations and Home Care
The most common side effect of chemotherapy is brittle nails. A daily oil to condition the nails can be helpful; an easy analogy to share with your clients is that hair and nails are both made of keratin. When they have hair, they tend to wash then condition it. How many times a day do their hands get washed or sanitized? Using a good oil with a penetrating ingredient like jojoba, squalene, coconut oil, etc. will allow the nail cells to slide against each other, like the way oil lubricates an engine.
Discoloration can occur because of chemo, which can be disconcerting. You can encourage clients to show changes in the nails to their oncologists [but you are not required to monitor the health of your clients' nails nor should you diagnose or treat a client for a medical condition]. It may be helpful to take photos at each appointment to document any changes and leave the nails clear or apply easy-to-remove polish when something needs to be brought to the oncologist's attention. Once the doctor gives the OK, discoloration can be camouflaged with color or artwork.
Onycholysis, the lifting of the nail plate from the nail bed, may occur on the hands, feet or both. It is important not to pry at the nails if this occurs. Simply keep them short and clean—without digging underneath the nail plate. The fingers and/or toes should be kept dry to prevent any fungal infections. If there is fear of snagging a nail and ripping it during sleep, cotton socks or gloves could be worn. As with other changes, encourage your client to check on their nails and mention the lifting nails to the oncologist.
Peeling nails may occur as a side effect of treatment and can be helped with lightly buffing the lifted free edge to seal it as well as keeping the nails short. Protecting the nails with clear polish can also be beneficial if there is no desire for color. Just like regularly using the oil will condition the nails when they are brittle, it would be beneficial to the peeling nails as well, allowing movement even when wearing polish.
Care should be taken to keep the nails and toenails dry. Part of home care during oncology treatment should be wearing gloves when the hands will be in water or wet situations, such as doing dishes, washing pets, washing vehicles and gardening. If hands easily sweat, suggest using a vinyl glove in a larger size over a cotton glove to allow the cotton gloves to wick away the moisture.
Resources and Education
Should your client feel more comfortable staying at home during chemo treatments, there is a complimentary resource for all cancer patients known as Look Good Feel Better. It is an online-based program that is nonmedical and product neutral. Oncology patients can visit lookgoodfeelbetter.org to sign up for free virtual courses on nail care, skin care and makeup, wigs and head coverings, body image, wardrobe and styling, and scarf tying.
Nail professionals looking to specialize in care for oncology patients can look into taking a course with their local hospice to get insight into many of the effects of cancer and medications on patients. Oncology Spa Solutions is an oncology-focused program geared toward nail professionals and estheticians offering classes live and online at oncologyspasolutions.com.
Sources: Doug Schoon, Jim McConnell, CJ Murray and hospice classes.
About the Author:
Holly L. Schippers is a USA-based award-winning nail professional, globally known as the FingerNailFixer.®