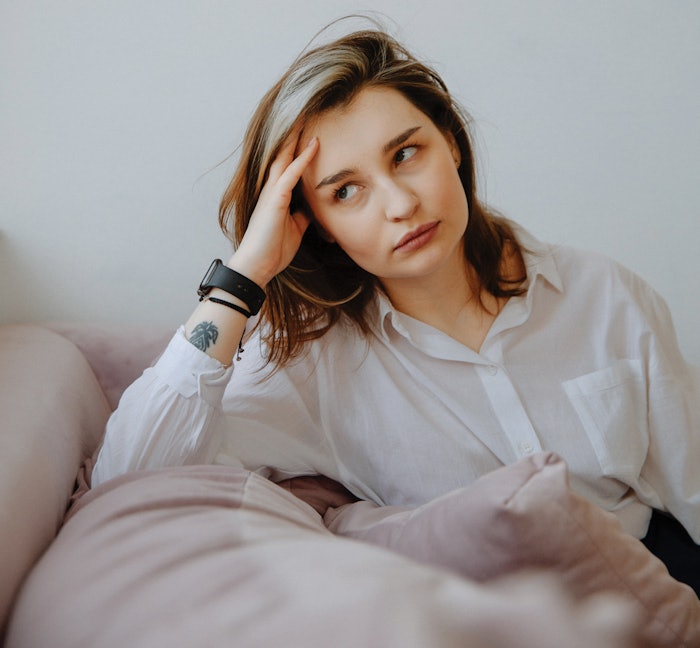 Joy and excitement tend to flow during the holiday season, but so, too, can stress and pressure. Clients scrambling to meet work deadlines before a holiday break may also have holiday shopping, travel and social obligations stretching them to the limit. Nail techs often have holiday obligations as well, atop long hours and pressure to stay on a tight schedule of services, which can have a physical and emotional toll on them, eventually leading to burnout.
"Many of our guests are on tighter timelines or are stressed during the holidays, which can adversely affect their mood coming in for a service," says Ryan McEnaney, owner of Frenchies Modern Nail Care in Woodbury, Minnesota. More harried and cranky clients than usual in an already physically taxing job can contribute to the erosion of physical and emotional health. For one thing, increased work hours mean more hours performing services in a hunched-over position, which is hard to avoid when you're hyper-focused on work, but it isn't great for your health. "Any time the body is repeating something over and over, there's a health risk," says psychotherapist Thomas Lucking, PhD, marriage and family therapist in Los Gatos, California.
It's not uncommon for the stress of the holidays, plus the elevated customer service levels required, and the physical and mental stress that we carry around to lead to some heavy-duty burnout. "While we work in a self-care industry, it can be challenging to remember to take care of ourselves," McEnaney says. Here, we explore ways to break free of that burnout and get back to business—while feeling better.
Burned Out or Just Stressed?
The difference between garden-variety work stress and burnout is that the latter is the result of prolonged stress, which causes physical, mental and emotional exhaustion, says Brian Wind, PhD, clinical psychologist and addiction counselor in Murfreesboro, Tennessee. "Nail techs can experience burnout due to the stress of trying to bring down their service times, listening to clients' personal problems during appointments or handling demanding clients," he says.
Many in the service industry—nail techs included—don't realize how serving others can put a strain on the server, says Wyatt Fisher, licensed psychologist in Boulder, Colorado. "As the old adage goes, it's hard to fill a cup from an empty pitcher," he says. "So, the first step is watching for signs of burnout. Some common ones may include decreased motivation to go to work, increased physical ailments and decreased joy in your work while you're there." Internal symptoms, such as fatigue and headaches, are your body's way of letting you know that stress is getting to you. Other physical signs are a racing heart rate and difficulty concentrating or sleeping, Lucking says.
Burnout can drain emotional energy, as well, leaving people tired and depleted. As a result, more energy is required to complete tasks that were once done with ease, says Sabrina Romanoff, PsyD, clinical psychologist in New York City. "This also leads to reduced job performance—not because a person loses competency, but because perception about their tasks becomes overly negative," she says. People burned out and emotionally exhausted can be irritable and may feel more cynical about the work and the people they are surrounded by, Romanoff continues: "In turn, they may dissociate from work to cope and become more distant," she says.
Beat the Burnout
Salon owners not only have the ability to create a smoothly-running nail business, but they can also help their staff avoid burnout—and because reducing burnout increases productivity, everyone benefits. "Ask yourself what kind of culture you're creating in your salon," Lucking suggests. "Do you consistently demand employees do more and faster? While that might result in short-term success, it will end in failure in the long term." One easy way to lessen the tension? Say "thank you" more often, he advises. "Research has found that a lack of appreciation is one of the top three reasons people leave jobs," he says. "Everybody needs to feel appreciated."
For the full article, please visit Nailpro's January/February digital magazine.
Author bio: Virginia Pelley is a freelance writer and editor based in Tampa, FL.