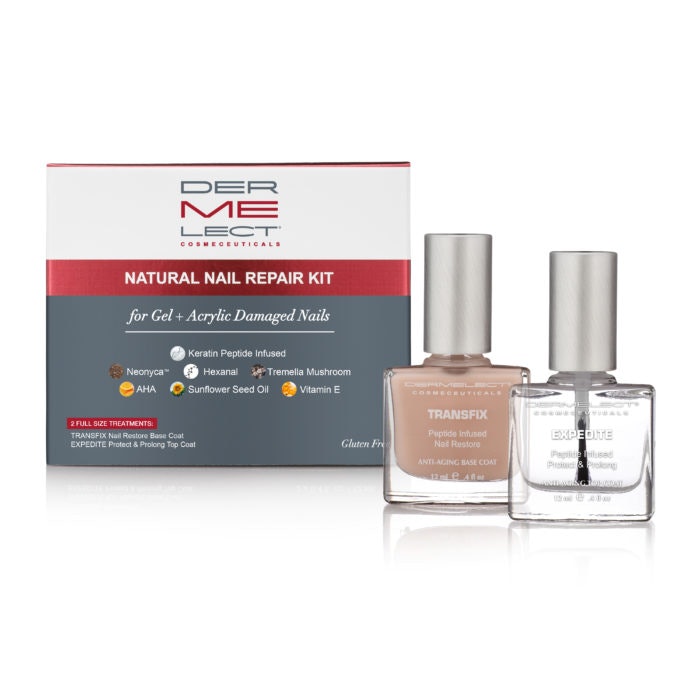 View this post on Instagram
Dermelect Cosmeceuticals adds two new treatments to its arsenal of peptide-infused nail care: Transfix Nail Restore base coat and Expedite Protect & Prolong top coat. Formulated with sunflower oil, keratin protein peptide and Tremella mushroom extract, this natural nail repair duo works to repair and restore weak, damaged nails.
View this post on Instagram
Transfix Nail Restore serves as a professional strength, eight-in-one treatment base coat with sheer nude coverage to resemble the look of a healthy nail bed, while a powerhouse ingredient combination works to nourish nails back to health.
Professional treatment top coat Expedite Protect & Prolong utilizes 'Wet Look' technology, instantly forming a plump, voluminous layer over bare or polished nails to create a long lasting shine, protecting nails from breakage, splitting and yellowing.
RELATED: Repair Natural Nails with Silk and Fiberglass Wraps
View this post on Instagram
Get to Know the Ingredients
Keratin Protein Peptide
Imported from New Zealand, this protein increases nail integrity, strength, flexibility and hydration.
NeonycaTM
Imported from France, celery seed oil soluble extract locks in moisture and prevents external damage.
Hexanal Aldehyde
This hardening organic compound improves nail resiliency.
Tremella Mushroom
This nourishing anti-oxidant features anti-microbial properties.
Alpha Hydroxy Acid
AHA is utilized for its resurfacing properties.
Sunflower Seed Oil
This nourishing emollient easily absorbs, providing instant hydration.
View this post on Instagram
What the Doc Prescribes
Specializing in nail damage, board-certified dermatologist Dr. Chris G. Adigun provides nutrient requirements needed to revive and strengthen clients' nails: Hydration, conditioning and surface restoration.
Hydration
Incorporate a gentle exfoliative acid (AHAs) into your clients' nail treatment such as glycolic acid to facilitate penetration of nourishing emollients and conditioning peptides.
Condition
Emollients seal in moisture and bolster the desiccated nail's resilience, while keratin peptides support the nail plate's structure and improve strength. Keep in mind, applying conditioning emollients to the surrounding nail tissue is also important for nail health.
Resurface
Expedite's unique top coat formula contains conditioning oils sunflower and celery seed, as well as nourishing peptides that restore nails' strength and resilience.
—by Angelina Lewis
[Images Courtesy Dermelect]