Put clients' feet first with the Footlogix Professional Pedicure System. This system uses pharmaceutical-grade ingredients to treat every condition from dry, cracked skin to more severe symptoms due to diabetes. Ingredients are absorbed faster and deeper into the skin for visible results within a few days.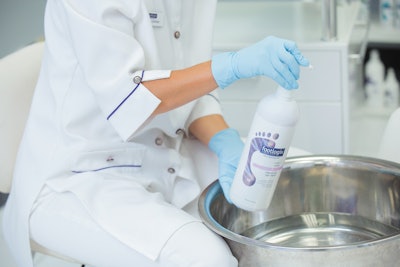 1. Add one pump of the Foot Soak into a footbath and soak the feet for 5 to 10 minutes. While the feet soak, spray the client's shoes with Shoe Fresh to help eliminate any bacteria.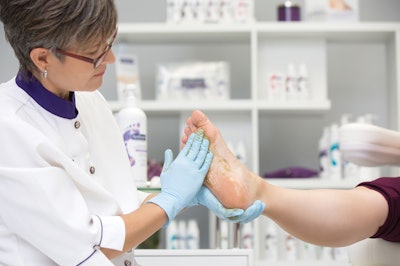 2. Remove the feet from the bath and pat them dry. Use one pump of Exfoliating Seaweed Scrub on the feet and lower legs. Massage it into the skin in an upward, circular motion. If the scrub gets lumpy or becomes too dry, add water to emulsify.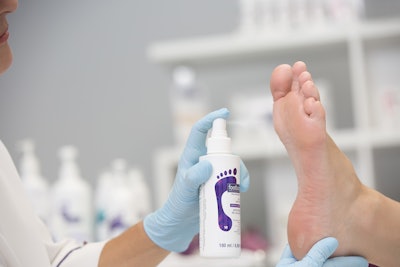 3. Apply a small amount of Cuticle Softener directly onto the cuticle of each toe and allow it to absorb for 60 seconds. While the cuticle softener is absorbing, spray Callus Softener onto the soles of each foot, applying it generously to any calluses or extra dry skin. Let it absorb for two to three minutes or until the skin is slightly tacky. While the softener absorbs, trim the client's cuticles and cut and shape the toenails.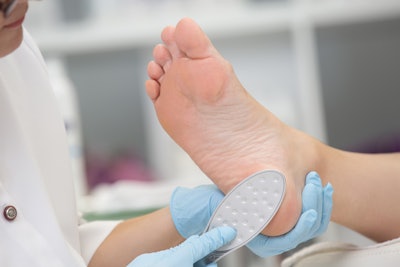 4. File the back of the heels and soles using the Stainless Steel File to reduce the calluses and soften the skin. It's not necessary to rinse the foot after filing, as the Callus Softener will continue to be absorbed into the skin for lasting softness.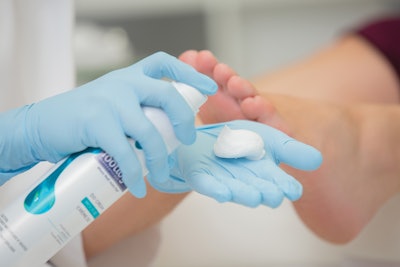 5. Apply Very Dry Skin Formula mousse to any extra dry or callused areas. If the cuticles are extremely dry, massage Cuticle Conditioner into them.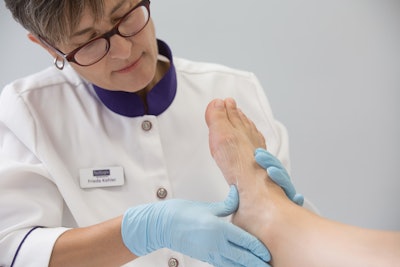 6. Finish the pedicure by massaging the feet and legs with Massage Formula. Apply nail polish to the toenails if desired.
*Always evaluate your clients' feet first; if they have any broken skin, open wounds, ulcers or abrasions do not continue with the service and recommend medical attention if necessary.
For more information, visit footlogix.com.
-written by Dina Ciccarelli
This article was first published in the March 2018 issue of NAILPRO
[Photos: Courtesy of Footlogix]
READ MORE:
New Products from Footlogix Hydrate, Soften Toenail Cuticles