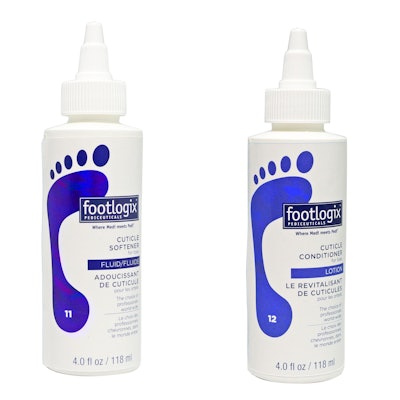 Toronto, Canada- based Footlogix launched two new products designed specifically to soften and hydrate toenail cuticles. The Footlogix Professional Cuticle Softener softens cuticles without stripping the surrounding skin. The pedicure product is specifically formulated for cuticles on toes and the hard skin build up in and around the nail fold on the toes, allowing for rapid removal of excess debris under the free edge of the nail. Complementing the Cuticle Softener, the Cuticle Conditioner leave feet soft and hydrated.
"I am so proud to launch these two new professional products specially targeted for cuticles of the feet. The Cuticle Softener is unique and unlike any other product in the market. The consistency makes it perfectly fluid to reach into the nail fold area and cuticles. It makes cleaning excess debris much easier for the technician. For continued hydration, we developed Cuticle Conditioner lotion to keep client's feet silky soft and esthetically beautiful," Dr. Katharin von Gavel, Founder and CEO of Footlogix said in a press release.
Both formula comes in an easy to use hygienic applicator allowing for pinpoint application and a narrow flow of product.
What do you think of this cuticle softener and conditioner duo? Let us know in the comments below! 
-Sigourney Nuñez
[Images courtesy of Footlogix]
READ MORE: