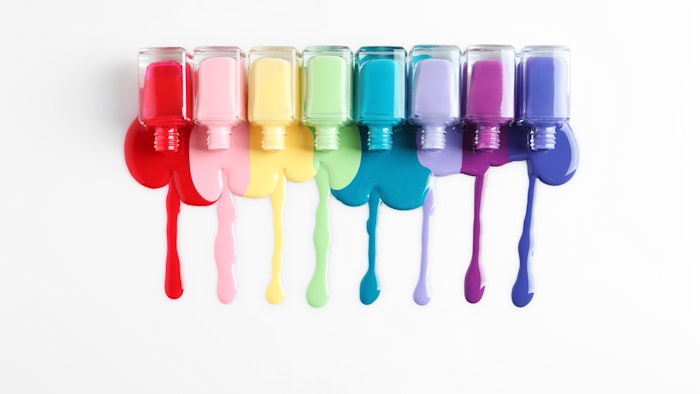 With so much attention lately going towards the ingredient labels on food, you may be left a little perplexed by that long list of chemicals on the back of your favorite polish.
Fear not! We are here to demystify lacquer ingredients to help you better understand what you're getting in that tiny, colored vial. Here are eight common ingredients in nail polish and what to look for. 
1. Resin
The tough material that holds polish together, resin is a type of polymer, meaning it is made of large molecules that string smaller molecules together. Nail polish traditionally requires two types of resin: film-forming and adhesive. The film-forming resin gives the dried polish a shiny texture, while the adhesive polymer adds flexibility, so the lacquer is less brittle.
Look for: Nitrocellulose (that's a film-forming resin) or anything with the words polymer, copolymer, or resin.
2. Solvent
The solvent makes the polish easy to apply and dry relatively quickly. It helps the lacquer spread easily over the nail, and as the polish dries, it evaporates to leave behind dry lacquer. The key is to make sure the solvent doesn't evaporate too quickly (which causes bubbles), but that it evaporates fast enough to allow nails to dry before getting smudged.
Look for: Ethyl acetate, butyl acetate, propyl acetate, and isopropyl acetate. Toulene is an inexpensive (and formerly common) solvent, but is used less frequently now due to talk of health and environmental concerns.
3. Dispersants
These are additives that help pigments mix with the resin and solvent, slowing the process of the color settling and separating in the bottle.
Look for: Stearalkonium hectorite, stearalkonium bentonite.
4. UV Stabilizers
These prevent polish from changing color or fading when exposed to sunlight.
Look for: Benzophenone, often followed by a dash and the number one.
5. Plasticizers
Added to keep the resin flexible once it's dry, plasticizers are what help your manicure last longer.
Look for: Trimethyl pentanyl diisobutyrate, triphenyl phosphate, camphor and ethyl tosylamide.
6. Dyes and Pigments
Often the main reason a polish is chosen is the color. Multiple ingredients make up that particular shade. Dyes are soluble, while pigments are not soluble in the solvents used. Dyes are often organic materials while pigments are not.
Look for: "CL" followed by numbers on the label; that's the index number for the color used. 
7. Micas
These tiny reflective particles are usually added to make polish shimmer.
Look for: Mica (pretty straightforward, huh?).
This article was originally published by Nailpro in 2014.